It's not until I split my blog into two, that I realized the challenge in exporting WordPress blog posts.
I needed to export certain blog posts with images, that make up this blog while leaving the rest.
But how was I to do it?
Publishing each one again from scratch was a complete waste of time, and out of question (unadvised).
I did it severally, making different mistakes each time until I got it.
And that's what this post details. Exactly how I did it, so you too (should the need arise), do it competently with no unnecessary difficulties.
But why exactly would one want to do this?
Why You Might Want To Move Your WordPress Blog Posts?
Below are some typical reasons that might need you to export and import WordPress content between blogs.
Note: By WordPress content here I don't just mean blog posts, but pages, media, and other movable WordPress elements.
1. Niche Simplification.
It's not uncommon to find yourself blogging about different niches, we all have many interests.
But unrelated niches on the same blog can bring about difficulties in SEO, creating and targeting an audience, among others.
2. Blog Merging.
You might be blogging (on different blogs) about different sub-niches of the same niche, and as such decide to consolidate your efforts for niche dominance.
3. Prevent Work Loss.
Your blog might have a considerable chunk of past unrelated content that might hurt your new niche's effort.
But rather than delete these posts and waste your efforts, and more so if they're still driving search traffic, you find a new home for them.
4. Domain Change.
Whether it's for branding or simply running away from huge penalties.
The need for a domain change will require you to migrate your WordPress blog's content.
And while reasons abound, the above four are the most common ones. Even so, they're still enough to show you the need is always there.
But what will you need to make this happen?
What You'll Need?.
In your blogging life, you'll find plugins quite the little lifesavers, and it's no different now.
Even though all you really need is WordPress's own inbuilt Export and Import tool. It will only export images within the posts except for Featured ones.
To export Featured images for the posts as well, that bit will need a plugin.
This plugin, Export Media With Selected Content.

So go ahead, install and activate the WordPress plugin.
Note: Featured Images, with WordPress's Export tool, are only exported if it's "All Content" that's being exported.
In the next section, we shall begin the Export process.
How To Export WordPress Blog Posts With Images.
Below is the process of exporting your WordPress blog posts with all the images.
But first things first, backup both websites using UpdraftPlus to enable you to revert should anything go wrong.
Now in your old site (the one with the content you want to move), go to "Tools > Export".
And from the Export page, choose Posts and specify the criteria you want for the exportation. Ie. Categories, Authors, Status, Start and End dates.
Once done, ensure to check the "Export media with selected content" option's checkbox below. This is what exports your post's featured images.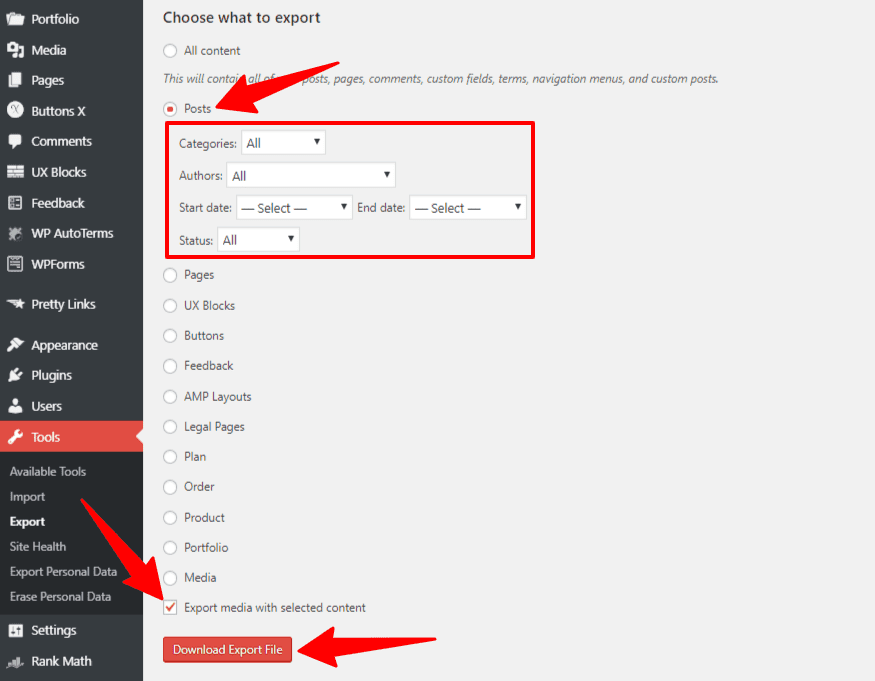 Lastly, click on the "Download Export File" button to download the posts' XML file. This is what you'll use to import these posts in your new blog.
You're done with the exportation, my friend.
Now that wasn't hard, right?
But what about if you want to export just specific posts scattered in different categories, without exporting every other you don't need?
For that, it's also quite simple as you shall see in the next sub-section.
How To Export Specific Blog Posts In Different Categories.
If you have specific posts you want to export in a certain category, all from the same author, what will you do?
To put this into context, you have 4 out of 10 review posts you wrote that you want to export, without exporting the 6 others.
To do this, go to "Users > Add New". And create another dummy User with the role of Author. Name the User anything you want, say "Mover".
And their dummy email, generate a password for them and then save.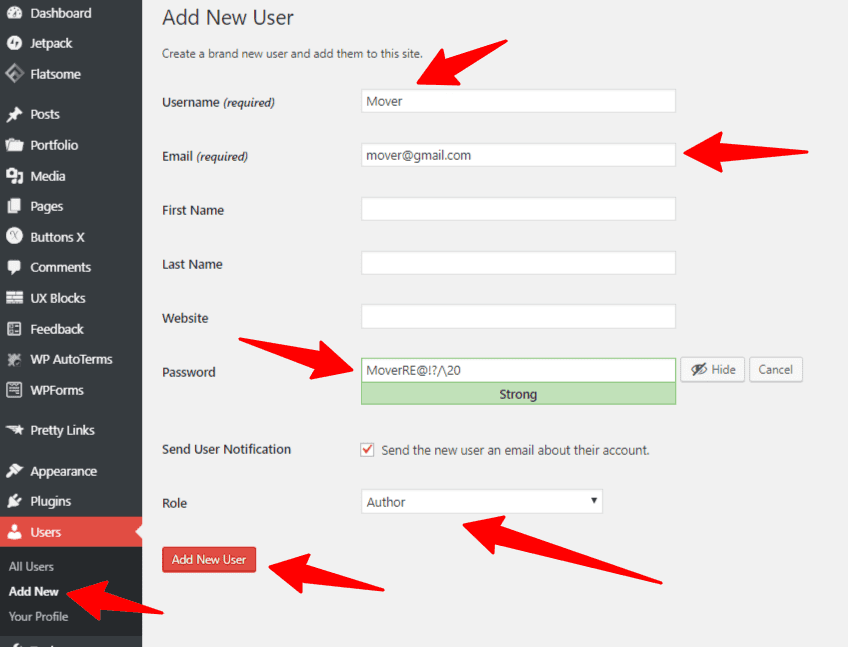 Once done, go to all the specific posts you want to export and change their Author to the New Dummy one.
Like this; go to "Posts > All Posts".
Find the post you want, and hovering just below the title, click on the "Quick Edit" option.

Locate the "Author" option and switch it to the Dummy one. Then "Update" the changes.

Do this for all the posts you want to export (you can use the Bulk Edit option if it works).
After you're done with this, go back to "Tools > Export".
And similarly to last time, choose Posts but under the Author specification choose Mover (the Dummy Author).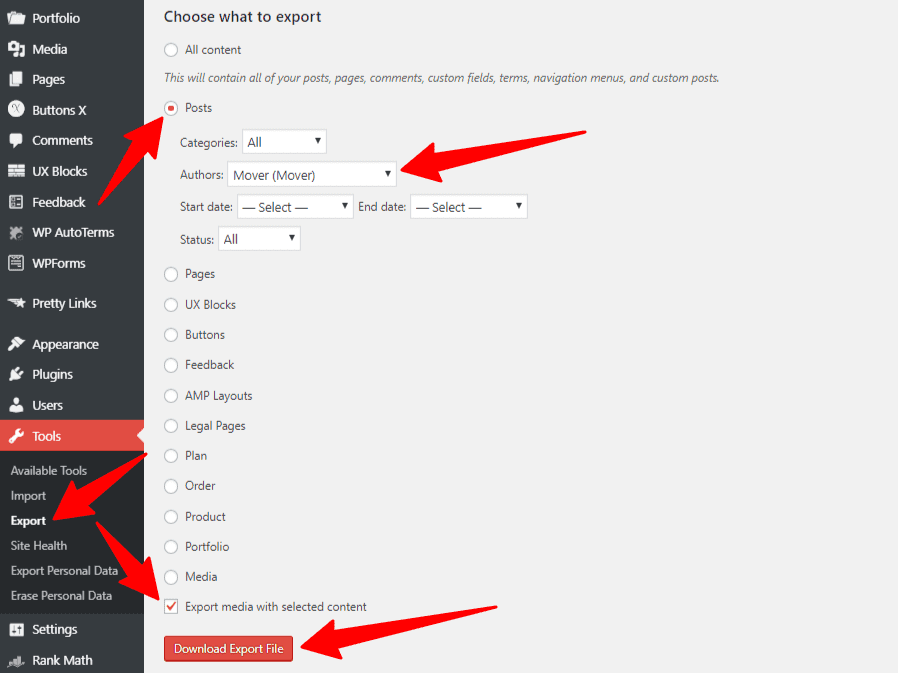 Don't forget to tick the "Export media with selected content" checkbox.
Finally, hit the "Download Export File" button, and you've done it.
In the next section, we'll go over how to import these posts into your new blog (the blog you're moving the posts to).
How To Import WordPress Blog Posts With Images In Another Blog.
Now that you've got all the posts you want to import nicely in an XML file, it's time to import them.
To do this, in your new blog, go to "Tools > Import" page.
You'll see several plugins listed, locate the WordPress one and click on the "Install Now" link button to install the import plugin.

Once installed, the link button will update to "Run Importer", click on it. This will take you to its Importation page.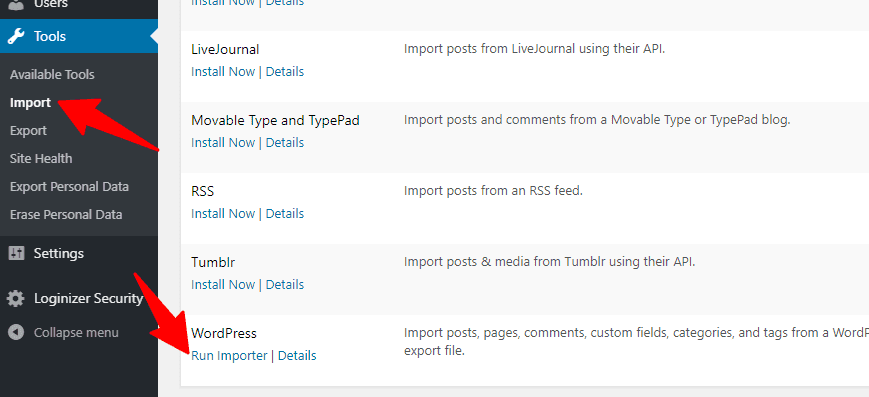 From here, choose the XML file you downloaded earlier and click on the "Upload file and import" button.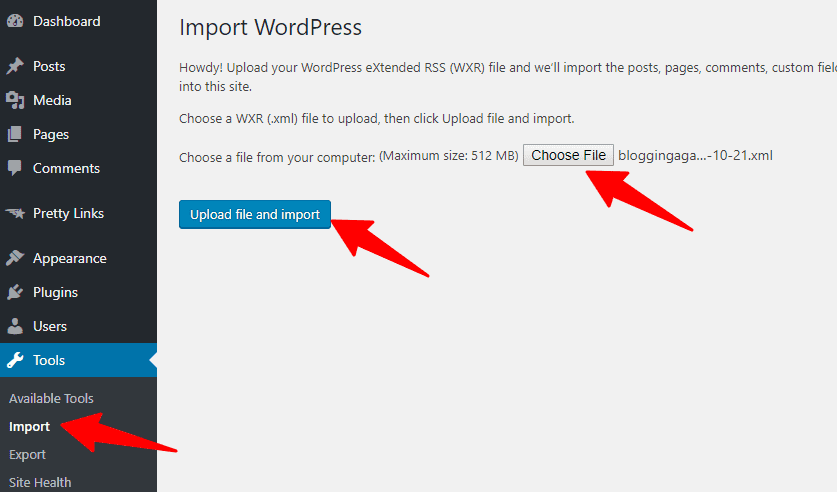 WordPress will import the posts and ask you to Assign Authors to them. If it's only you, assign them to the existing user. Alternatively, create a new one.
What's important in this step is to check the "Download and import file attachments" option to import all the posts' media content.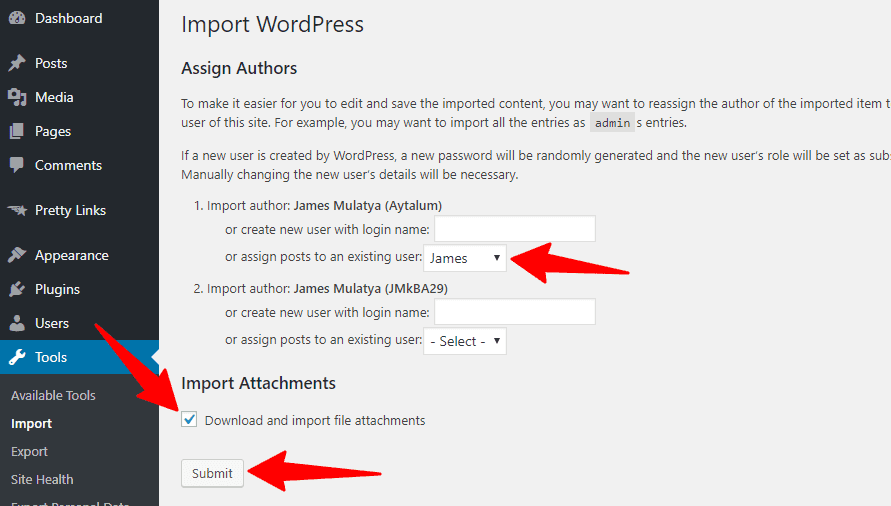 Lastly, click the Submit button to finish the importation process.

Once all posts have been imported, verify everything with them looks good and if so, trash the previous ones (on the old blog).
And you're done, my friend.
Note: Export in batches if you keep getting timeouts.
Congrats!
But is that all though?
Yes!
But it might also help you, to do the following.
How To Update Blog Links In Bulk After Moving WordPress Posts.
One challenge that will be clear after you've imported your blog posts, is how to update all the links within them.
But you need not sweat this though. Thankfully, there is a plugin to help you with that.
This plugin: Search and Replace.

Go ahead, install and activate it.
Then go to "Tools > Search & Replace".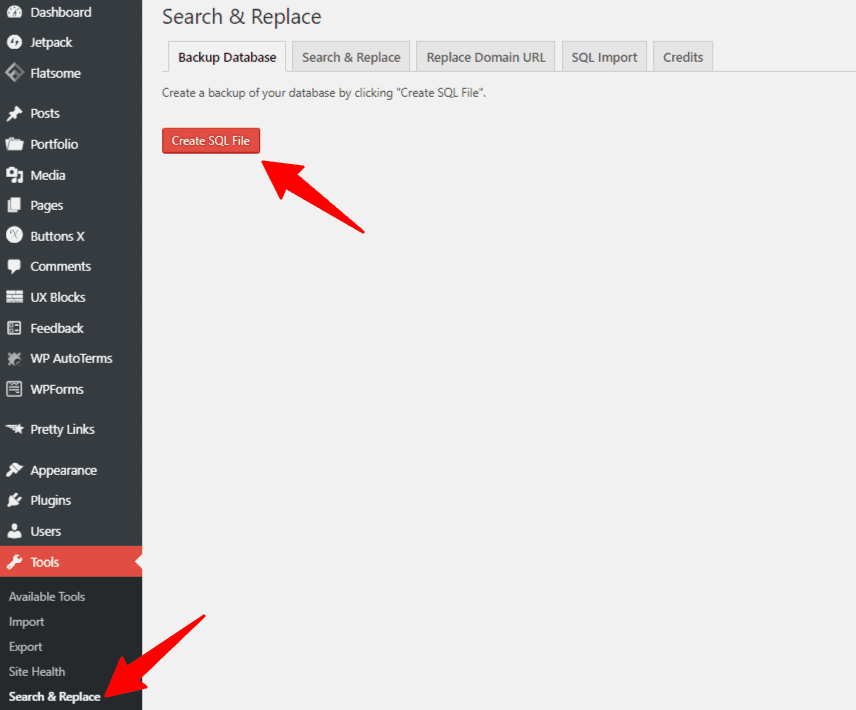 The first option there is to back up your database. So simply click on the "Create SQL File" button to do so, then afterward download the database backup SQL file.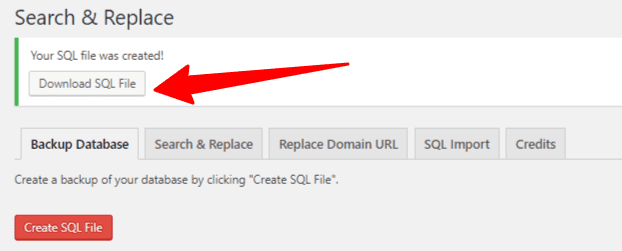 Next click on the "Search & Replace" tab.
From this configuration page, you'll be able to "Search For" something and "Replace With" anything you want. In your case URLs, Links, Terms, etc.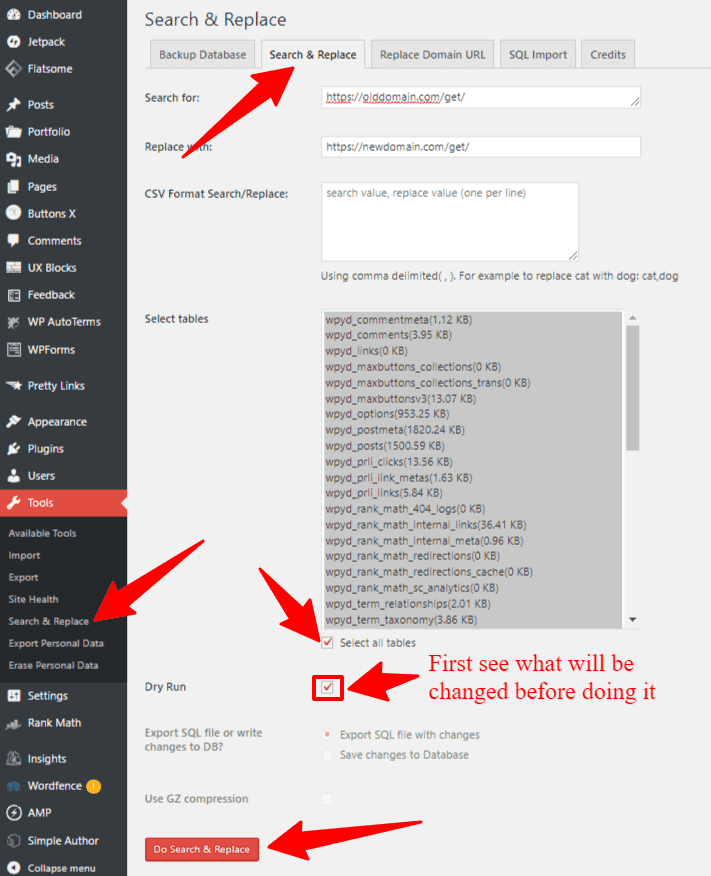 First, you want a "Dry Run" to see what it will change before it really changes it.

It's only when you're satisfied they're the changes you want, will you then uncheck the Dry Run option, and now replace.
The "Dry Run" will help you prevent replacing things you don't want to change, say an affiliate link with the search term.

This means if your search term conflicts with something important, you'll have the chance to define another unconflicting search term. You don't want any more headache than it already is. 🙂
But that's it! See what links need bulk edits and use this Search and Replace tool to do it.
What of the SEO impact, can all these changes affect my blogs?
Yes, but not if you can do something about it (See the next section).:)
What SEO To Do After You've Moved WordPress Blog Posts?
You see after you've exported your blog posts, and then do nothing with the old ones, your previous SEO and current efforts might suffer.
This might create duplicate content issues with Google. And you might risk being penalized.
Don't worry though, there's a simple solution for telling Google and other search engines you've moved the posts to a new home.
Not only to update their database with the new URLs but also to transfer some of your previous SEO power if not all.
But how do you do this? Do you need to hire a site expert?
I will show you, and NO!
What you have to do is to simply 301 (permanent) redirect your old blog posts' URLs to the new ones.
So that when someone finds your article on Google, Bing, Yandex or others, using the old URL, they're redirected to the new post's home automatically.
Rather than making them deal with a 404(not found) page which can be disastrous not only from an SEO point of view but user-experience's.
To do this, you'll need a Redirect plugin. I used Rank Math's. So go ahead and install it (It's in the WordPress directory, so simply search for it).
Note: If you use Rank Math as your SEO plugin, it comes with it. So no need to install another.
After you've installed the Redirections plugin, go to Rank Math > Redirections and Add New.
From here, on the "Source URLs" text field option, input the old URL that you want to redirect.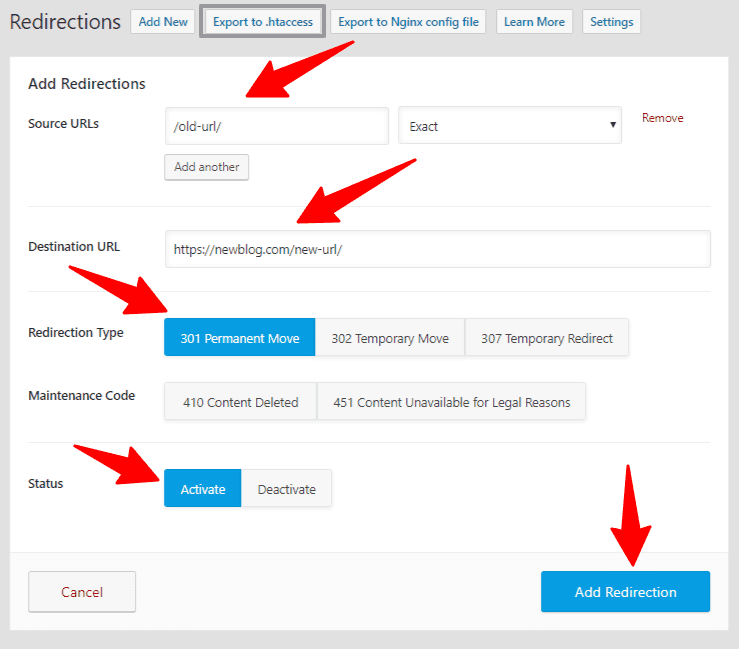 And on the "Destination URL" option, enter the new URL to redirect to.
Leave the Redirection Type as "301 Permanent Move" and "Status" Active.
Next, click on the "Add Redirection" button to add the new redirection.
If you want, you can export all the redirections to your .htaccess file in your root folder for faster processing. But either way, you're good.
You can learn more about Redirections here.
Lastly, submit and resubmit your new and old blog's sitemaps to search engines. And notify linking websites to update their URLs.
Now let Google and Other search engines act accordingly.
And you're done for real this time. 🙂
Note: Always redirect any URL changes you make on your blog.
Conclusion.
Irrespective of your need to export/import WordPress blog posts, the steps above will come in handy.
It's my hope you got value out of this post and if so, feel free to share it with your blogging friends.
That's it from me today on how to export and import WordPress blog posts with images between WordPress blogs.
And till next time, my friend!
Stay Blessed!
Featured Image Credit: Designed by Freepik.