If you want to start a WordPress blog with HostGator properly, you have to do it right.
After all, anything worth doing at all, is worth doing right.
And that's where this guide comes in. To walk you through each step until you launch your self-hosted WordPress blog on HostGator properly and like a pro.
I'm a firm believer in simplicity and as such, this guide will be so simple a toddler could follow.:)
But if you want a detailed start a blog guide version, my previous post is perfect.
I'll assume you already have a blog niche all picked out that you'll be blogging about.
And a good domain name chosen and ready to be registered if not already (more on this later).
Note: You can register your domain name on Namecheap or choose one with HostGator's hosting.
This post will only focus on installing WordPress on HostGator and setting it up correctly for blogging in under 30 minutes.
So with no further ado, let's get started.
Shall we?
Step 1. Choose A Good Domain Name.
Every blog deserves a good name and address. And for that, a good domain name.
But how do you choose a good domain name for your blog?
Simple!
Brainstorm ideas based on branding, keywords, audience, memorability, availability, competition, length, flexibility, and uniqueness with the help of free online domain name generators.
The only thing to avoid is trademark infringement.
But once you've got the domain name that you're ready and proud to move on with, it's time to act and register it fast.
Personally I advocate on keeping the domain name and hosting separate if possible but either way, it's fine.
Below I've listed some of the best domain name generators and registrars to help you get started.
Best Free Domain Name Generators.
Best Domain Registrars.
This step isn't complicated at all, but take your time to choose a good domain name you won't regret.
At this point, you should have registered your domain name and ready for the next step, choosing a web host.
But why HostGator?
More on that on the next step.
Step 2: Choose A Web host.
Now, seeing as how this post is about starting a WordPress blog with HostGator, it's fair to say we've got this step covered.
But why HostGator?
Below are some reasons why your HostGator hosting choice is best.
Easy to use – Thanks to their one-click QuickInstall tool and website builder, creating any type of blog is a breeze and beginner-friendly.
99.9% Uptime – Time is money, and anytime your blog is down, it costs you money. But with HostGator, you can rest assured this won't be a problem.
Superb Support – You can fully rely on HostGator's capable support system to bail you out of any technical issues should you encounter any with your blog.
Generous Money-back Guarantee – HostGator offers a no-contract 45-day Money-back guarantee on all their shared hosting plans. So there's no risk to you.
Welcome Extras – With HostGator, other than having up-to-date features and offering cheap web hosting. You also get other welcome extras like free SSL certification, $200 worth of advertising credits, free transfers, automatic weekly off-site backups, comprehensive video tutorials, and much more.
Be Self-Hosted – Finally, with HostGator's hosting, you'll be self-hosted. Say bye-bye to unstable free hosting solutions and be in full control over your blog asset and its monetization.
Reasons abound why HostGator is an awesome, reliable and capable hosting service provider to go with. So as we go on with this guide, be assured you chose the best web host.
But which HostGator plan is best for you?
Select The Best HostGator Hosting Plan.
HostGator hosting plans are super cheap starting at just $2.75 a month. And if you enter this HostGator coupon code: AYTALUM25 when checking out, you save 25% too.
Shared hosting has 3 plans: Hatchling, baby, and business. And all come with one-click install, unmetered bandwidth, free SSL certificate, and a free domain to name a few.
If you're only starting one blog, then the Hatchling plan will suffice. But if you plan on hosting other blogs, the Baby plan is perfect. Bear in mind you can upgrade through the plans as your needs change.
To get started, click on the "Buy Now!" button.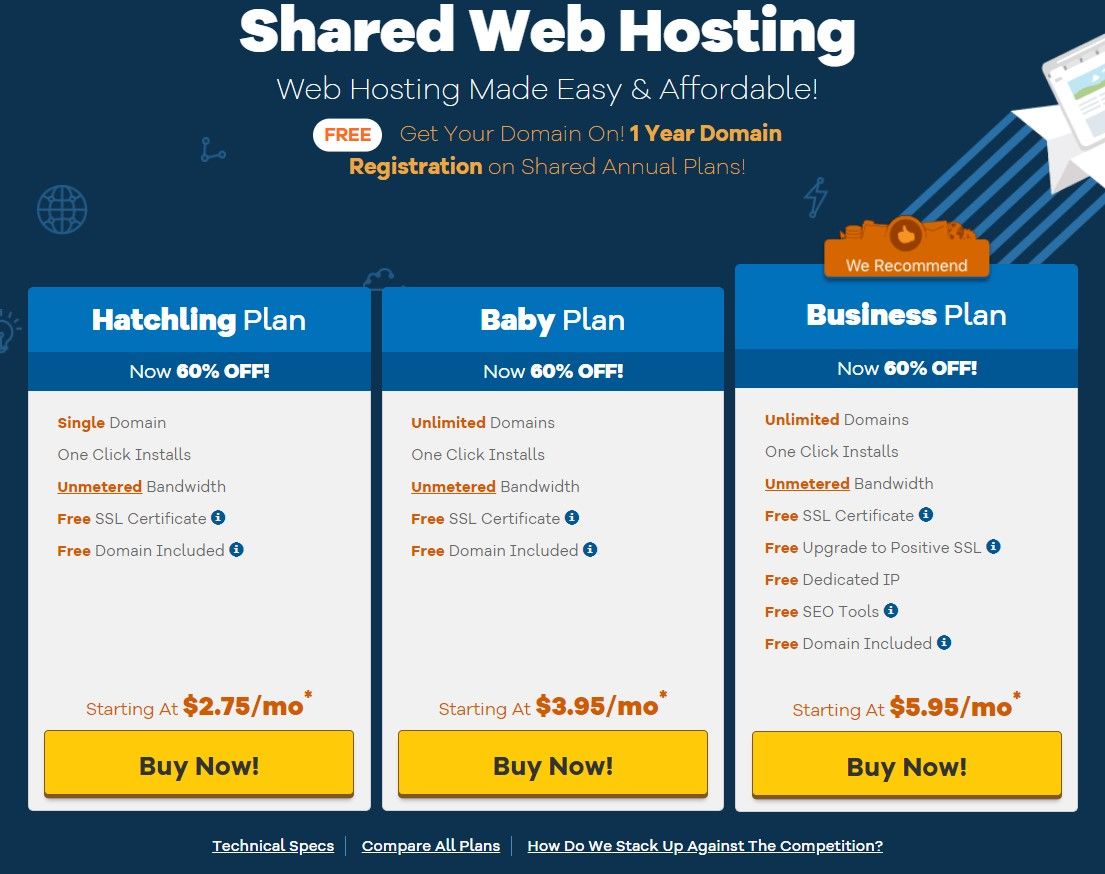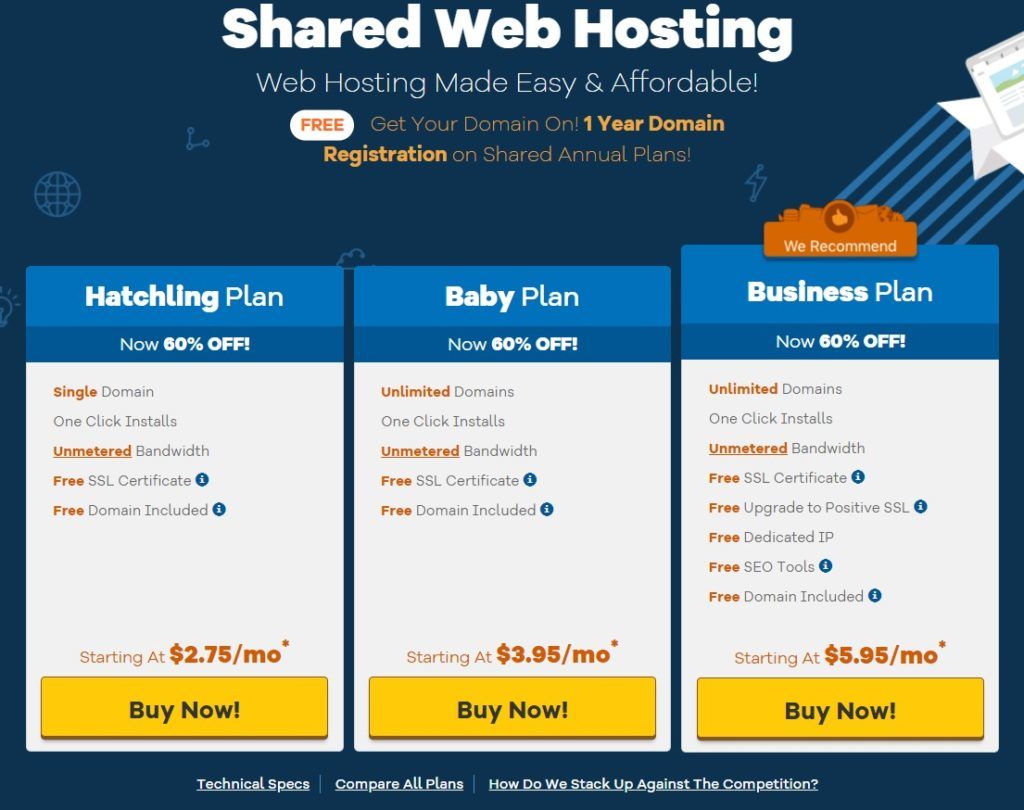 And on the following page, on the first option "Choose a Domain", choose "I Already Own This Domain" if you have the domain registered with another registrar. Or "Register a New Domain" to register your new domain with them.


On the second option "Choose a Hosting Plan", enter your preferred Username, choose your Billing Cycle, and desired Security PIN.
Note: Longer billing cycles attract better discounts.

The next option "Enter Your Billing Info", will be all about your personal details. So enter them accordingly and accurately.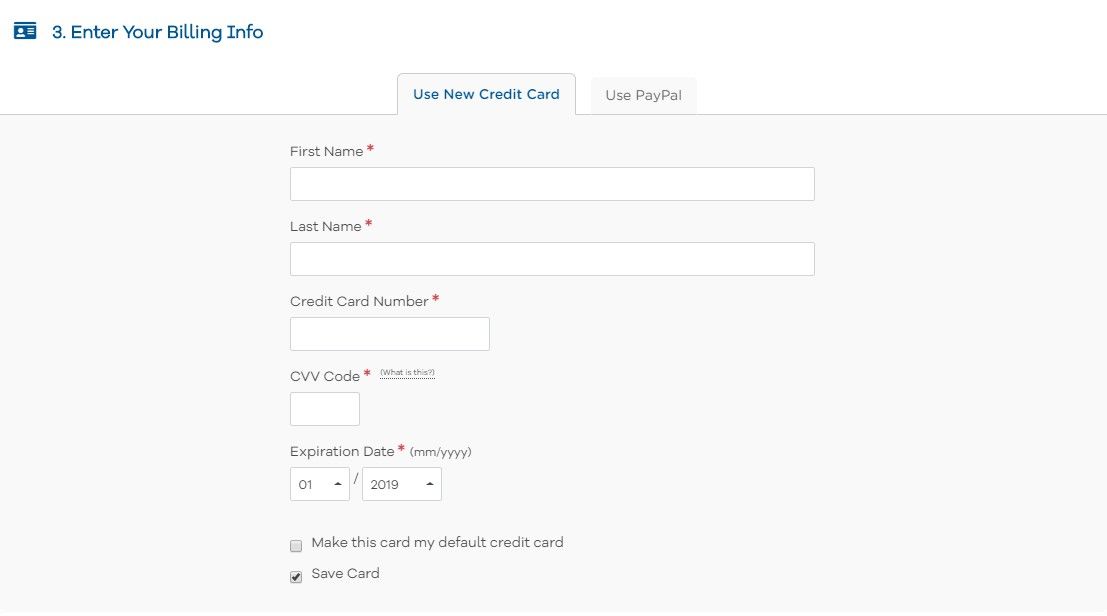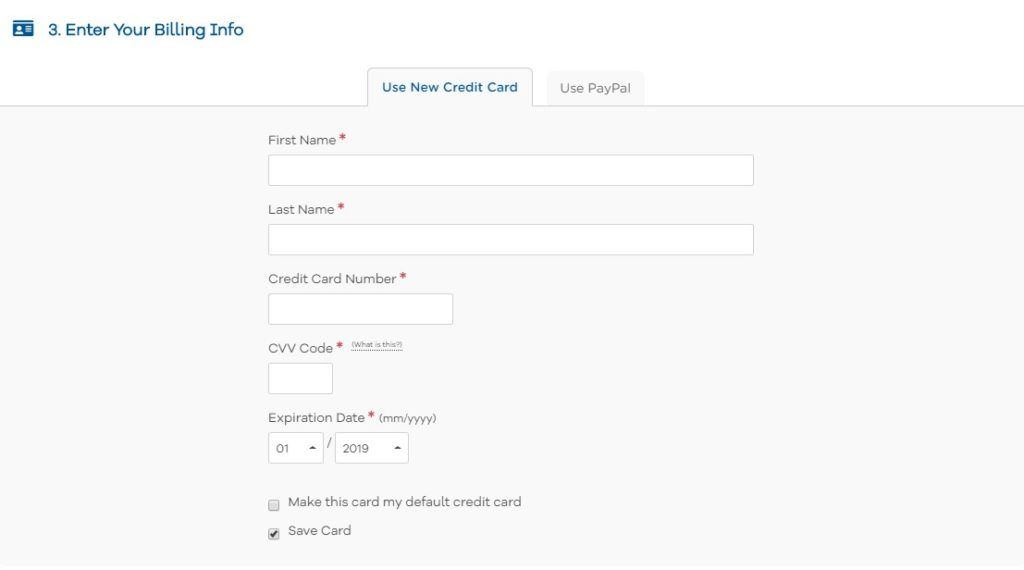 The fourth option "Additional Services", are optional and not mandatory according to me. So uncheck any unnecessary services you don't want.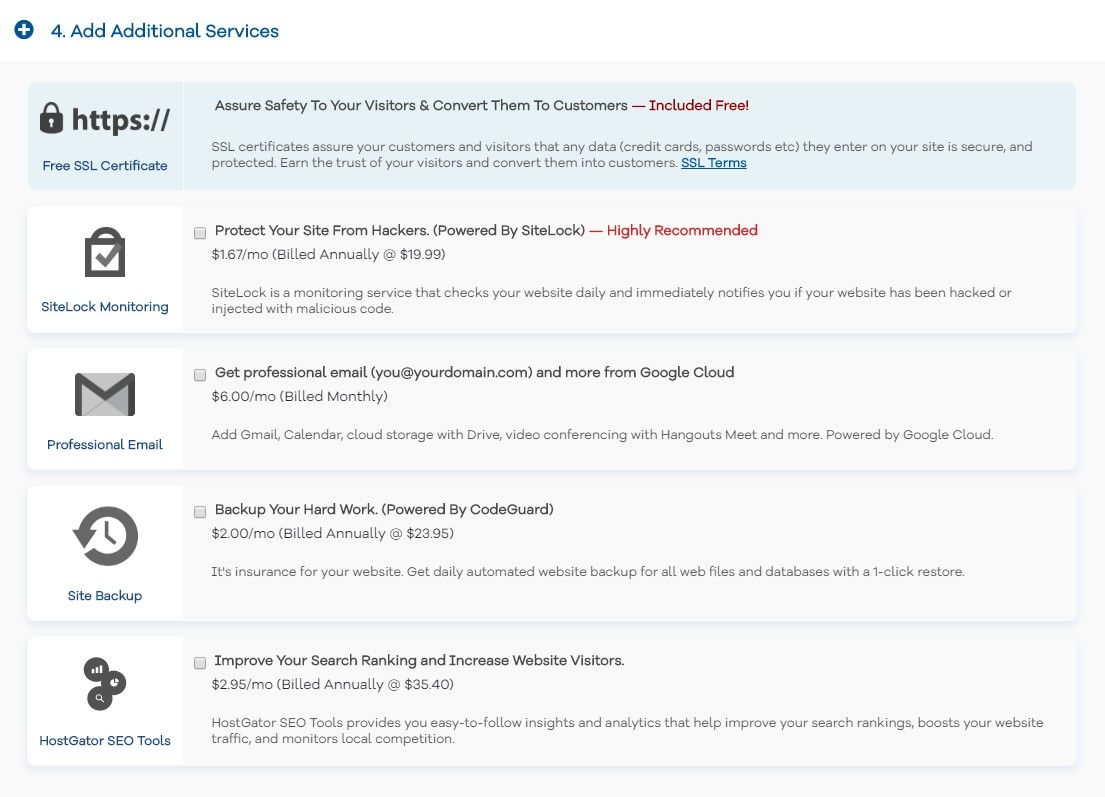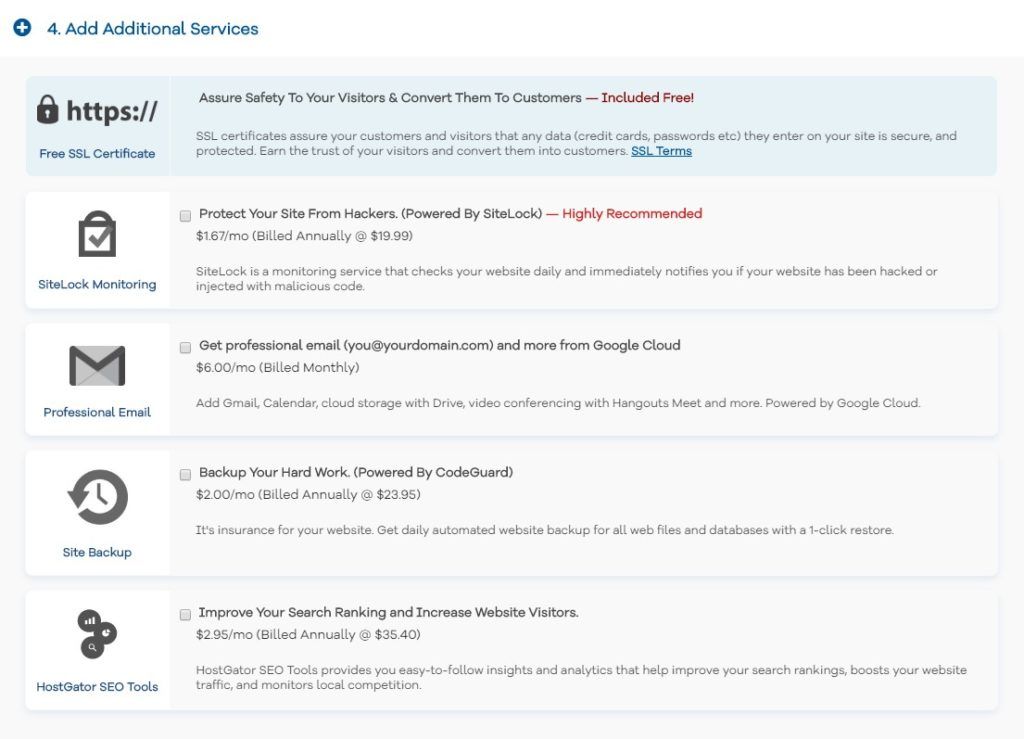 Next Up, "Enter a Coupon Code", this is where you'll enter the special HostGator coupon code: AYTALUM25 I gave you to save 25%. Validate the coupon code after entering it by clicking the Validate button.

Note: You can use Honey to find the best coupons for when purchasing online.
Lastly, "Review Order Details" option. Simply make sure your order details are looking good, accept their terms and policies, and click the "Checkout Now!" button to proceed with payment.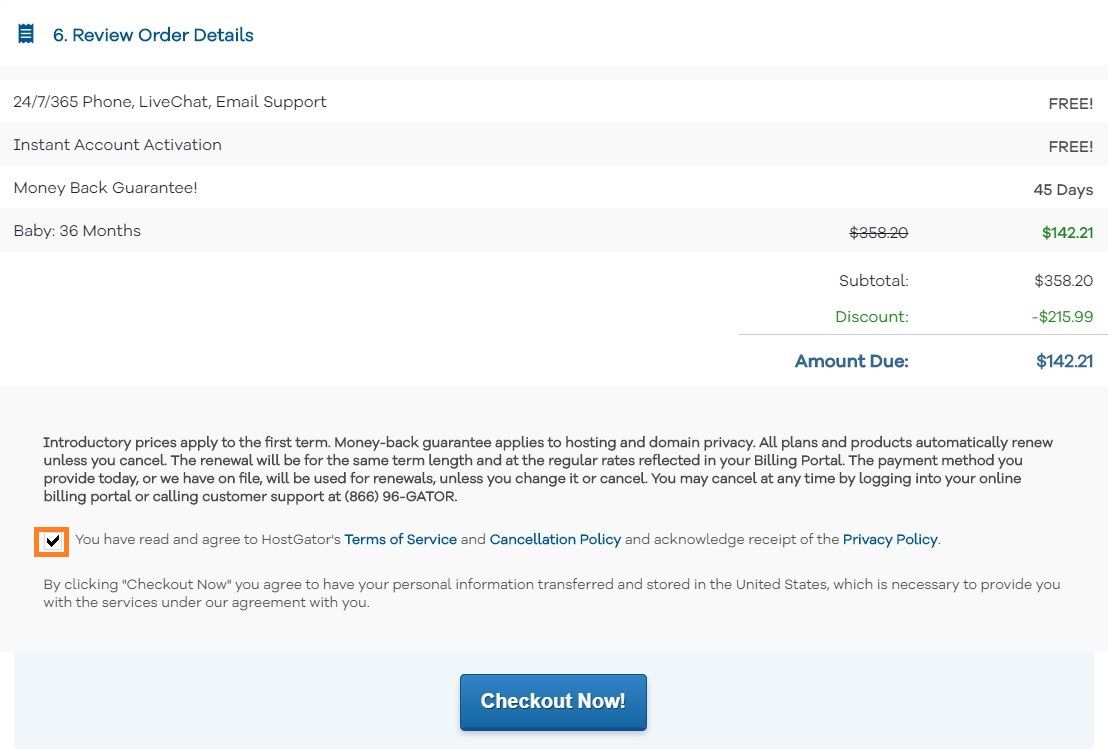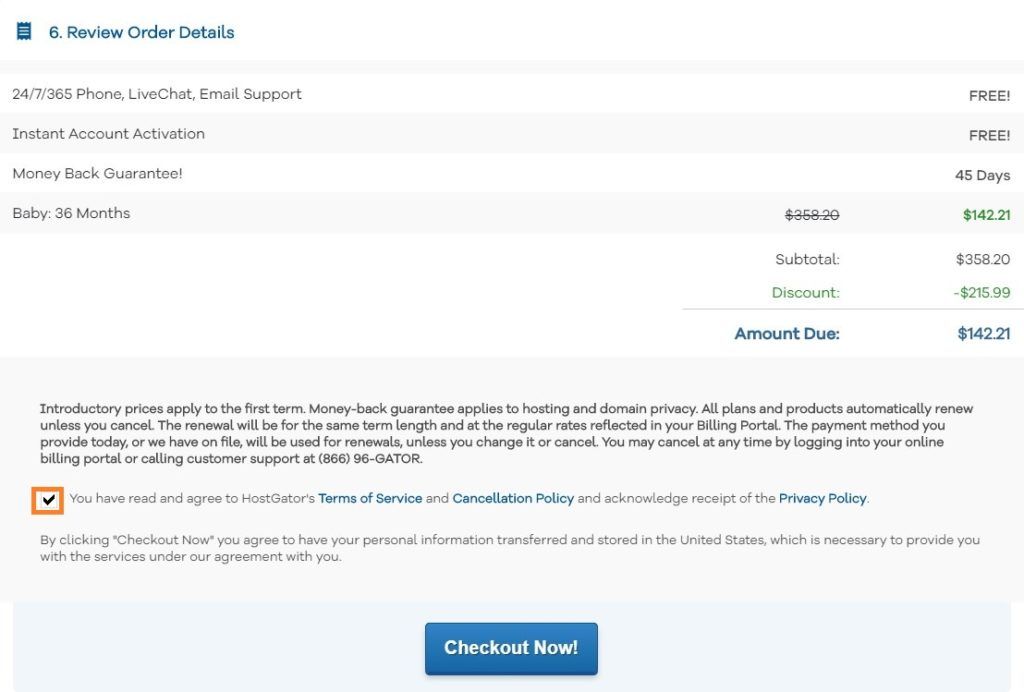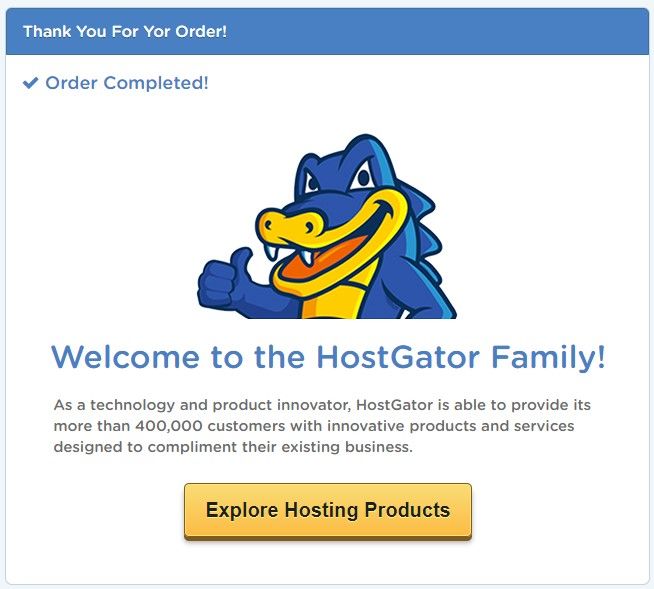 If you plan on starting a blog with HostGator today, click here to start the above process.
But how exactly will you connect the domain name you just bought and this hosting plan?
Step 3: Connect Your Domain To Hosting.
The process of connecting a domain to hosting is usually one that's easy.
Only involving two custom nameserver changes to the domain to point to its hosting.
But for this guide, I will show this using Namecheap. As it's where I keep my domains.
But the process is similar for the other domain registrars and can find their respective guides within their customer tutorials.
To begin with, you'll need HostGator's 1st and 2nd Nameserver addresses. And you can find these details in the welcome email sent to you after you purchased your hosting.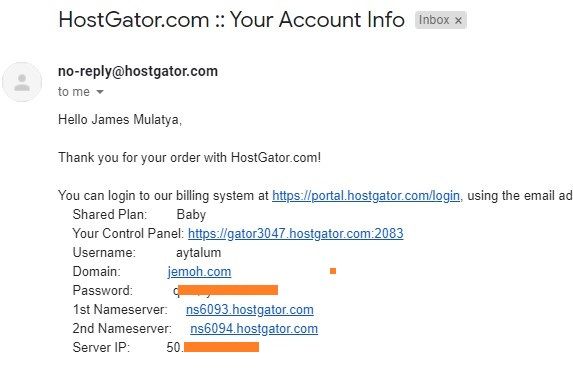 Alternatively, you can find the two nameservers within your HostGator's control panel, on the right-hand side, under "General Information".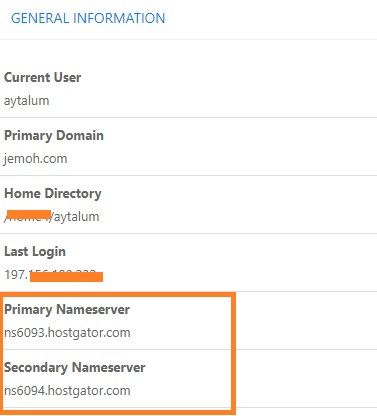 Next log into your Namecheap account dashboard, locate your domain and, click on the "Manage" button.

Then under NAMESERVERS section, choose "Custom DNS" option, enter the two HostGator nameservers above respectively, and save changes.
(Optional) On the next page, under the REDIRECT DOMAIN, edit the Destination URL to make it naked. Remove www. ie. http://www.domain.com to http://domain.com.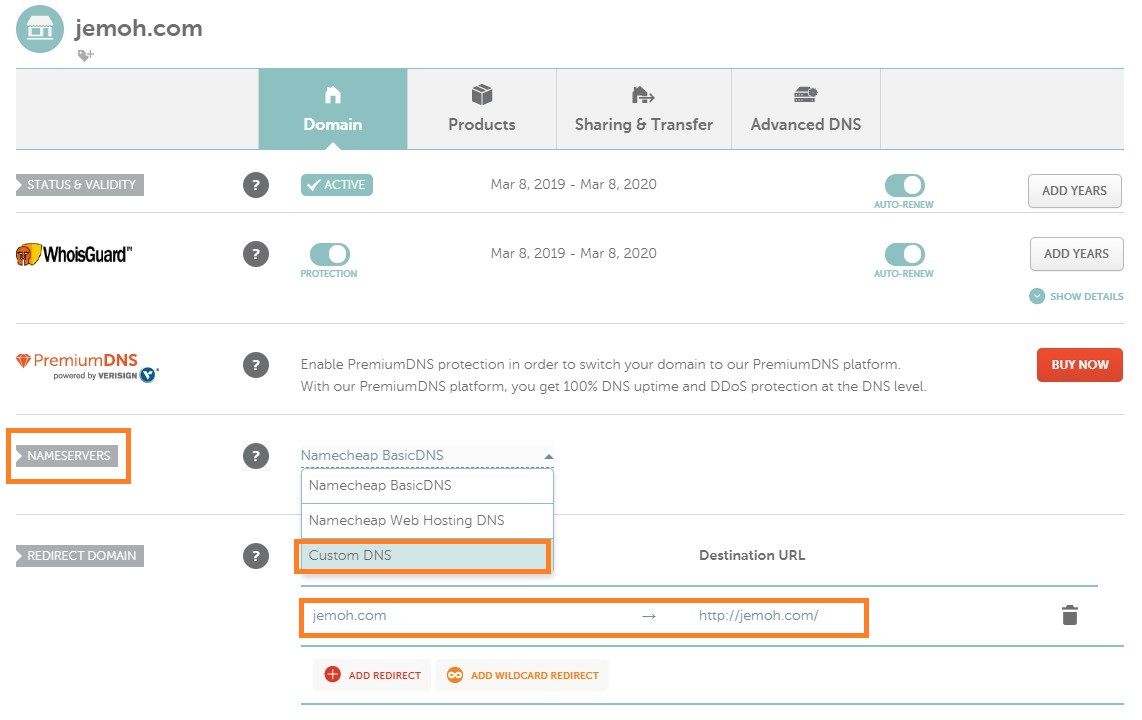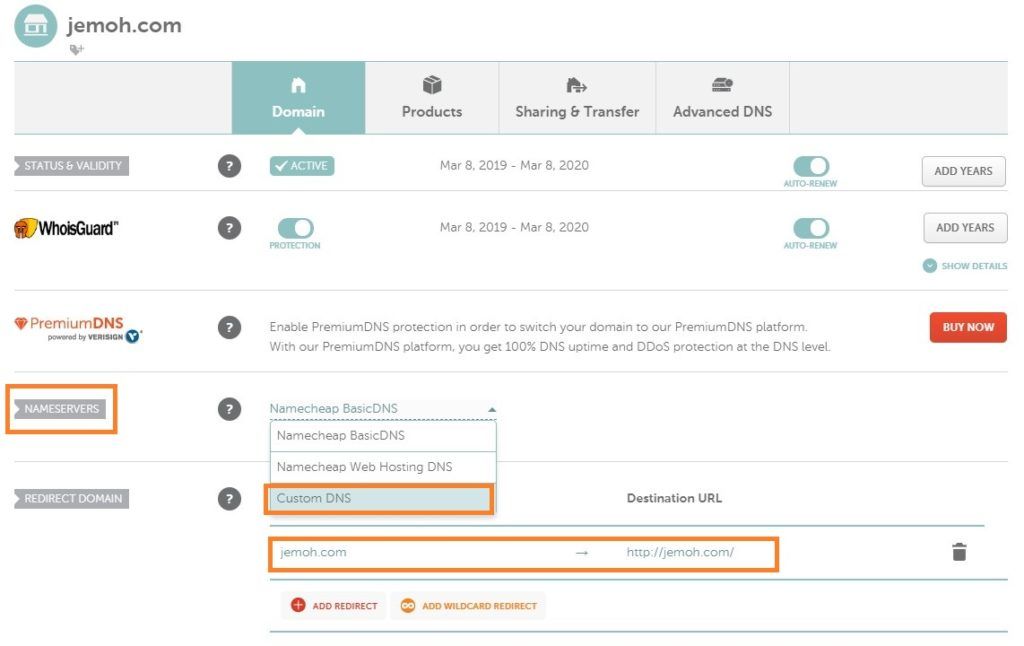 Note: It might take up to 48 hours to propagate properly. But usually less than 10 minutes.
You're done with the pointing my friend!
That wasn't hard at all, right?
Next up, installing our WordPress blog. 🙂
Step 4: Install WordPress On HostGator.
Installing WordPress on HostGator is super simple with nothing to upload but to click.
To begin this process, log in your cPanel using the details in your welcome email from HostGator.
And from the control panel locate "QuickInstall" tool, under the SOFTWARE section, and click it.

On the following page choose the "One-Click Installs" option.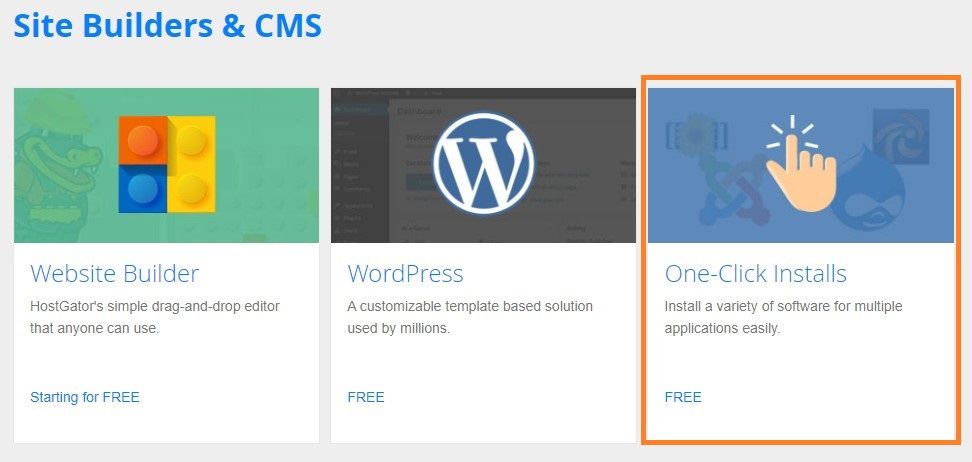 And then "WordPress" on the next.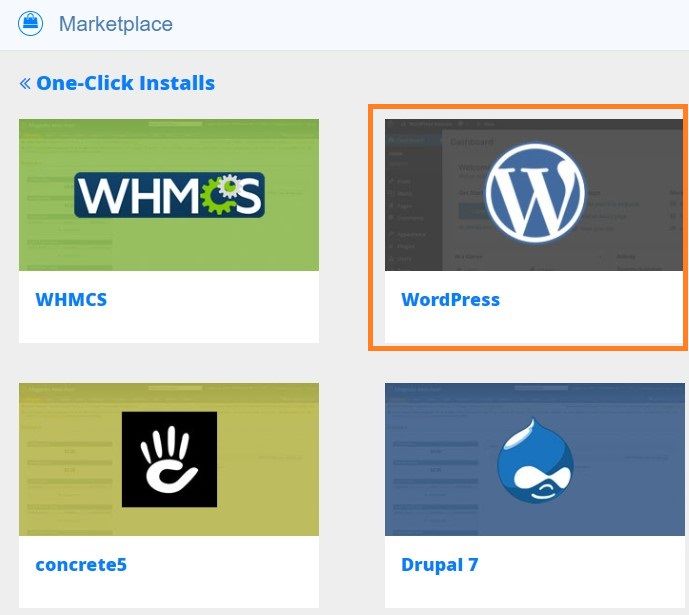 This will take you to a window from where you'll select the domain you want to install WordPress on and then click "Next" to proceed.


Note: Leave the directory field empty. Type nothing within it.

Reason: To install WordPress on the root domain.
On the next page, enter your "Blog Title", "Admin Username", your "First and Last Name", preferred "Admin Email" address, accept "Terms of Service" and then click the "Install" button.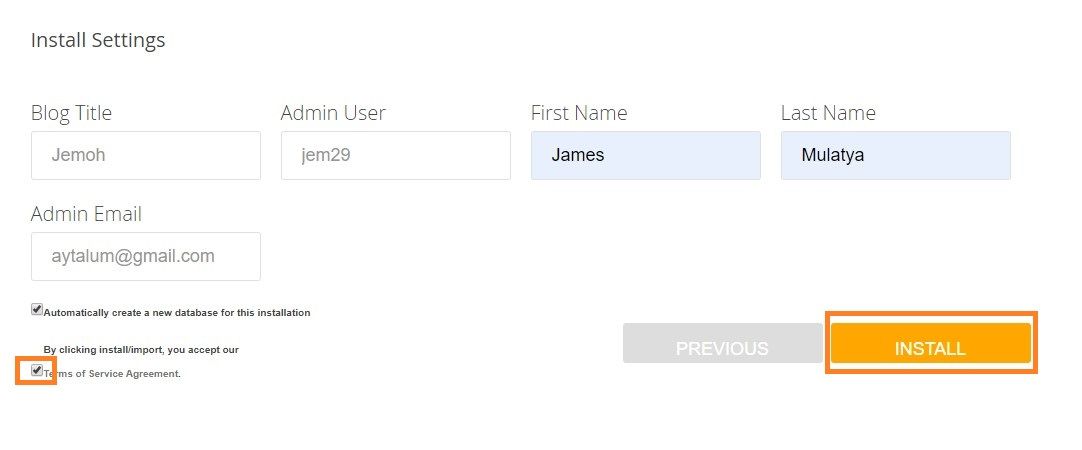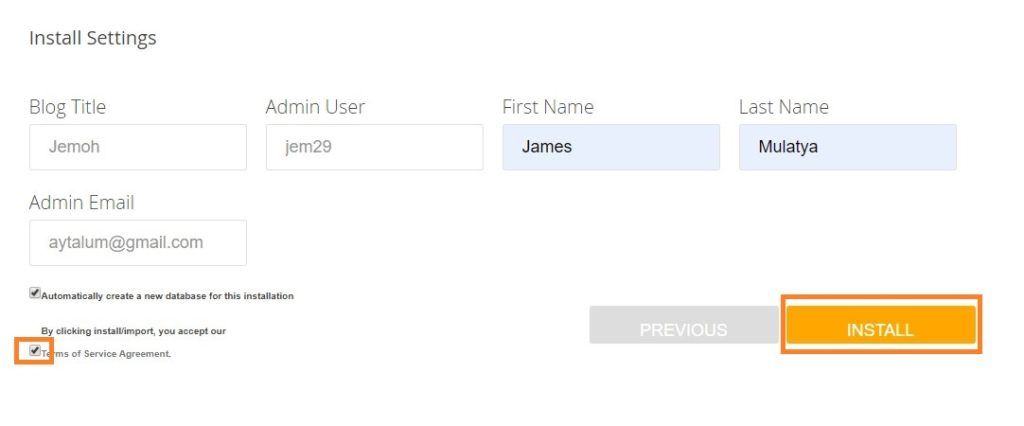 This will install WordPress on your chosen domain name just like that. 🙂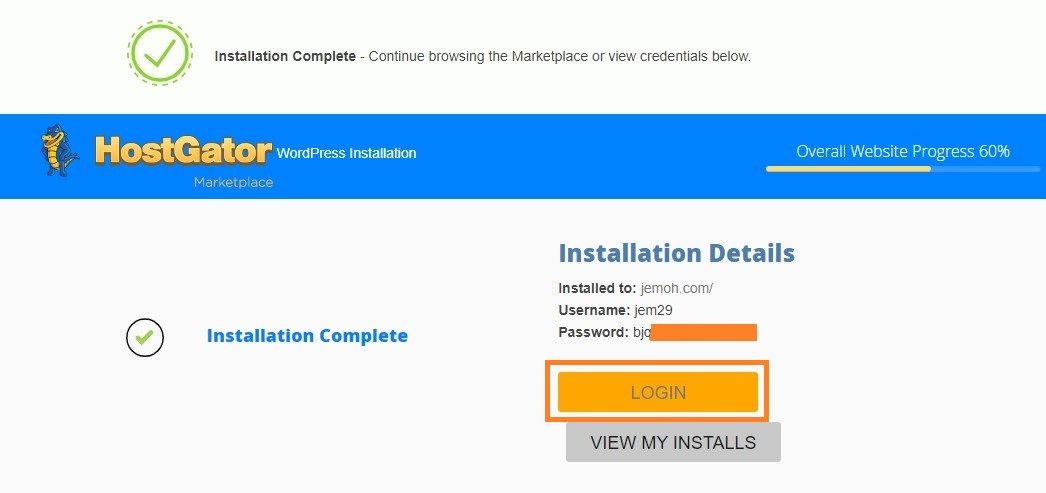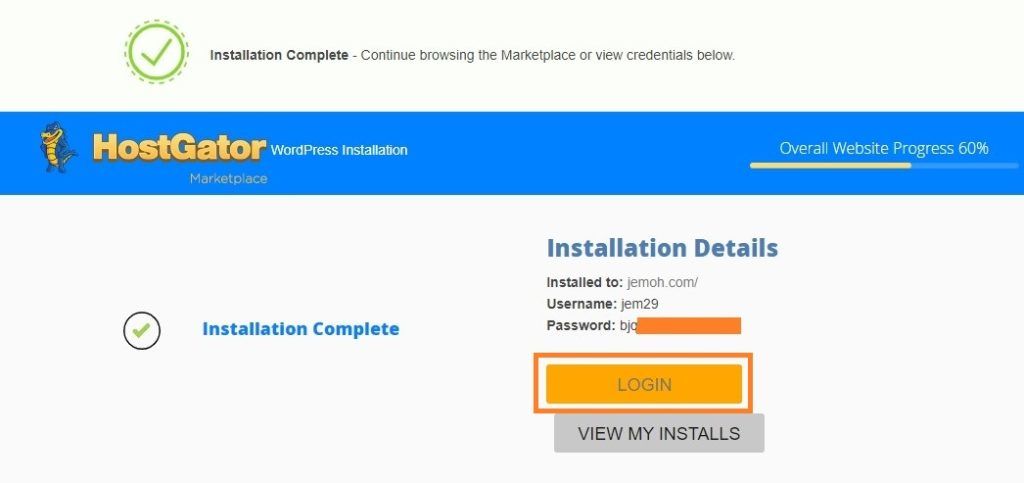 Now note down your Username and Password for later. You'll need them to log in to your WordPress backend. You can change them later on.
For now, click on the LOGIN button to log into your main WordPress dashboard for a little housecleaning. 🙂
Don't worry, you're almost done!
Clean Up And Essential Settings After Installing WordPress.
Now, after successfully installing WordPress on your domain name. There are some essential settings you should set up and general clean up to do.
First, we will start with the general dummy data cleanup. So, go to "Posts", "Pages", and "Comments", and trash these dummy data.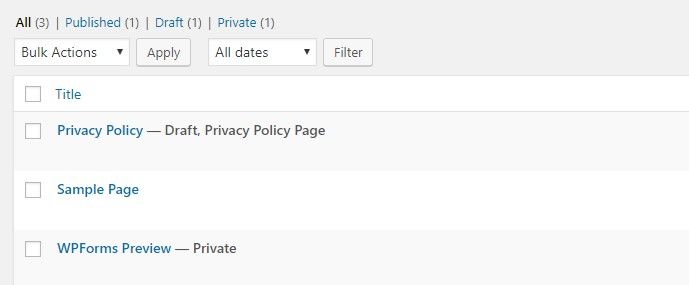 To trash them, simply select the dummy content you want to delete, and from the "Bulk Actions" drop-down menu, select move to trash option, and then hit the Appy button.
For Plugins, deactivate and then delete them. In fact, you only need like 10 types of plugins for your new WordPress blog. Read this post here to know which ones to install.
Next up, go to Setting > General. And make sure you have your Site Title and Tagline looking right. If not, make the necessary changes and then save.

After this go to Settings > Reading and from here, temporarily Discourage search engines from indexing your unfinished site by checking its checkbox and then saving changes.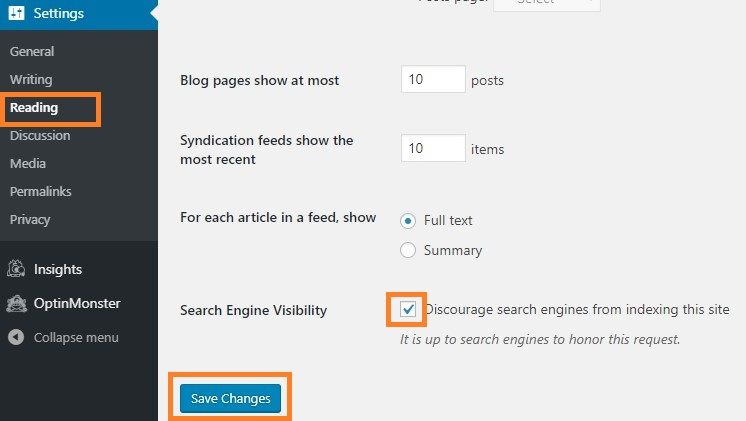 Note: You must uncheck this option when you're ready to launch.
Next, go to Settings > Discussion and check "Comment must be manually approved" option and then save changes.

Lastly, Setting > Permalinks. Choose the "Post name" option and then save changes. It's the most SEO friendly.
PS: Go to Users menu, update the current admin nickname with your preferred one, add a short Biography, avatar and, regenerate a new password.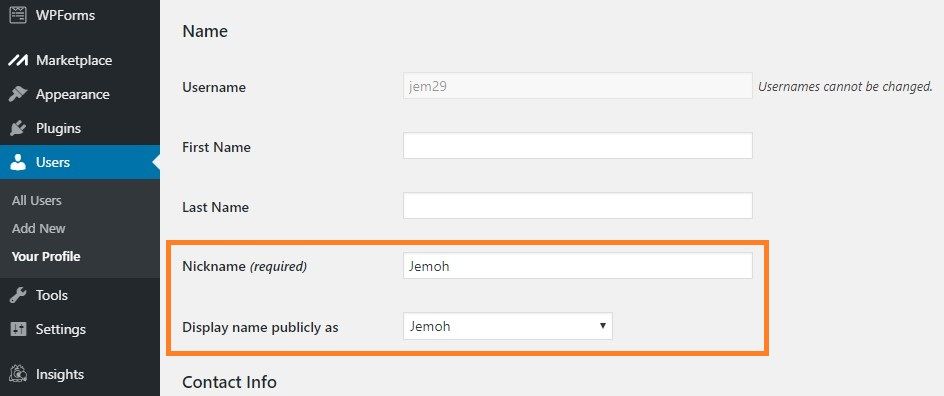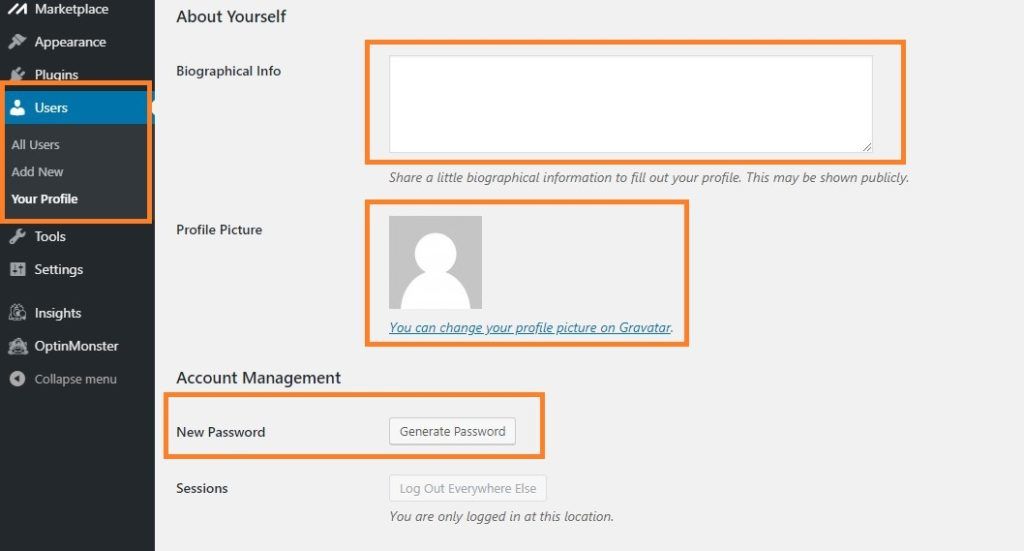 Congratulations!
Your blog is now all set up and ready for your blogging journey.
What Next?
So what next?
Quite a lot actually, but take one step at a time.
Below I've compiled a few things, beyond the scope of this article, that you can do next in no particular order.
Find a good theme, install, and customize it.
Install all 10 types of plugins discussed here.
Start writing your blog posts. You can outsource here.
Open a Pinterest business account, Facebook page, Twitter handle, and Quora account for promotion.
Create freebies and start building your email list using GetResponse.
Start learning and implementing SEO strategies for search traffic.
Learn affiliate marketing strategies to monetize your blog.
..etc.
But don't let any of the steps listed above trick you into thinking you can't do it. You can and step by step.
I believe in you. You weren't created for mediocrity.
You can do it, and better than any of us. 🙂
I'm rooting for your success! ?
That's it from me today on how to start a WordPress blog with HostGator in under 30 minutes.
If you loved the post, show your appreciation by sharing it with your friends and family in need of starting their own WordPress blogs.
BTW, is there any other tutorial you would like to see? Or a step here that wasn't clear? Put it in the comments below.
And as always!
Stay Blessed! ?