Moving your WordPress site to a new domain can be both daunting and risky if you don't know what you're doing.
Lucky for you that's what this entire post is all about. Help you move your WordPress site to a new domain on the same or different web hosting like a pro, in the simplest way possible.
Remember, while there are different ways you can go about doing this, the following method is the one I used recently to rebrand Aytalum from RepeatBlogger.
If you're moving your WordPress site to a new domain on a different web host, don't worry, I'll attach a video showing you exactly how to do it.
Though the process is almost the same, the difference will be downloading and uploading your entire site. Which could be done manually or with the help of a plugin.
Either way, by the end of this post, you'll have the right knowledge to do it.
Better yet, you'll do it in a way that keeps all your previous SEO efforts intact. 🙂
So, with no further delay.
Let's get started, shall we?
Why You Might Want To Change The Domain Name Of A WordPress Site.
For some reasons, either personal or business-wise, the need to change the domain name of your WordPress website, might arise.
Some of these reasons could be you found a better domain name, had been using a temporary domain name to test or set things up. The domain name has racked up some serious penalties and bans, simply want to refresh your brand's image, etc.
Either way, for whatever reasons you might have, changing the domain name of your WordPress website will be a go.
So, to make this process as smooth as possible, follow along with this simple guide.
To begin with, what will you need to have in place first?
What You Need In Place To Move Your WordPress Site.
To keep this guide simple, I will keep technical jargon at a minimum.
So, before you can move your WordPress site, you must keep the following information immediately accessible.
Your WP administrator login credentials (username and password).
Your cPanel login credentials (given immediately after web hosting purchase).
The new domain name.
It's fair to assume these won't be a problem, seeing as how you already have a website. 🙂
Once you've got them ready, move on to the site move process in the section below.
Note: There are two guides below, one showing you how to change your WP site's domain name to a new one on the same host manually and another on a new or same host with a plugin. Skip to the one you feel more comfortable with.
Moving Your WordPress Site To A New Domain on The Same Host Simple Guide.
This was my case, and the steps laid out below are the ones I took to make the change as smooth as possible while maintaining my previous SEO efforts.
Note: For this tutorial, I'm using Namecheap's Shared Hosting. But this process is applicable irrespective of your hosting provider.
To begin with, point your new domain's nameservers to your hosting, add it as an addon domain in your cPanel, and install a temporary WordPress on it using a WordPress script installer like Softaculous present inside your cPanel.
We will override the WordPress later on, but in case you don't know or forgot how to install WordPress, here's a start a blog guide to help.
If you haven't bought your new domain name yet, I recommend Namecheap. They are excellent at their services and best of all their prices, fair.
Steps You'll Take To Change Your WordPress Site's Domain Name.
Backup your Website for full restore just in case.
Go on maintenance mode.
Copy your website files to your new domain's folder.
Change your URL within WordPress.
Replace and swap all old domain URLs with the new domain name.
Change or update your new site's details.
Redirect Old Domain to New Domain.
Let's begin.
Step 1: Backup your Website.
This step isn't optional, but mandatory.
Backing up your website will be important because you can restore it back in case you break something unintentionally during this process. Which won't happen, but still. 🙂
Namecheap has got its own AutoBackup cPanel plugin to do this for you daily on auto, but even so, you can still have another backup.
And to help you, you've got several powerful and handy backup plugins at your disposal, but for simplicity here's UpdraftPlus.
Set it up quickly and backup your website. They have their own quick tutorials, you won't get lost.
Note: If you have another Backup plugin or tool, with which you're more comfortable using, use it. The goal here is just to have a backup of your website.
Step 2: Go on Maintenance Mode.
It's good practice to always warn your site visitors of any minor or major undertaking you'll be doing and when. More so, if it can render your site inaccessible.
You don't want to be doing these changes while your visitors are already active on your site. It can lead to unintended frustrations and other unforeseeable consequences.
The solution, however, is easy.
Let them know you'll be working on your site and thus at a specific time, your site will be inaccessible for it.
And then put up your Maintenance Mode page at the scheduled time. This will help you move and work on your website minimizing frustrations and the bad user experience.
There are a good deal of Maintenance Mode page plugins. Simply, search for one, like this one, set it up quickly, and move on to the next step.
Step 3: Copy Your Website Files to Your New Domain's Folder.
Now that you've backed up your website and gone into maintenance mode, it's time to move it to your new domain.
I assume you've already registered your new domain name, pointed its nameservers to your hosting, added it as an addon domain, and installed a temporary WordPress on it.
If so, proceed to Files Manager. This is where you'll find your domains' document root folders.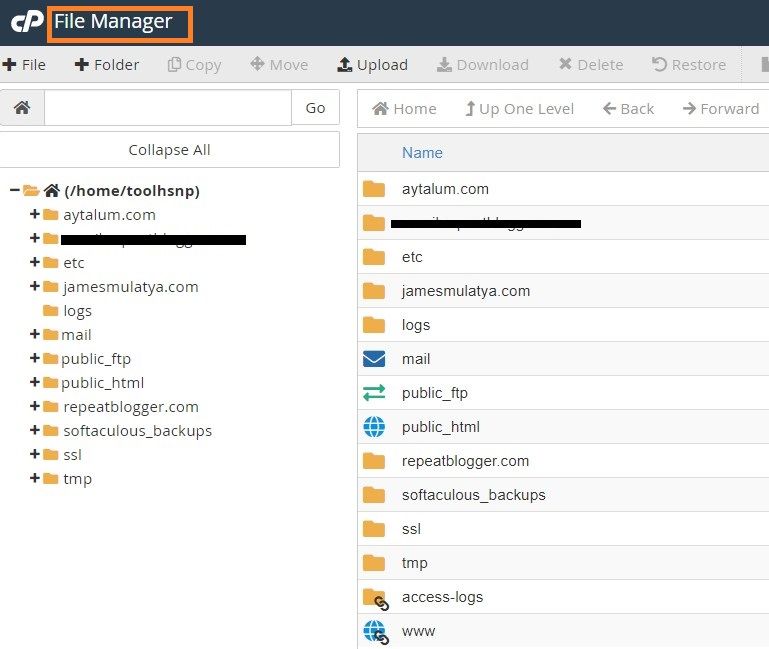 Just in case you don't know how to add an addon domain. Click on Addon Domains and on the next page enter your new domain details.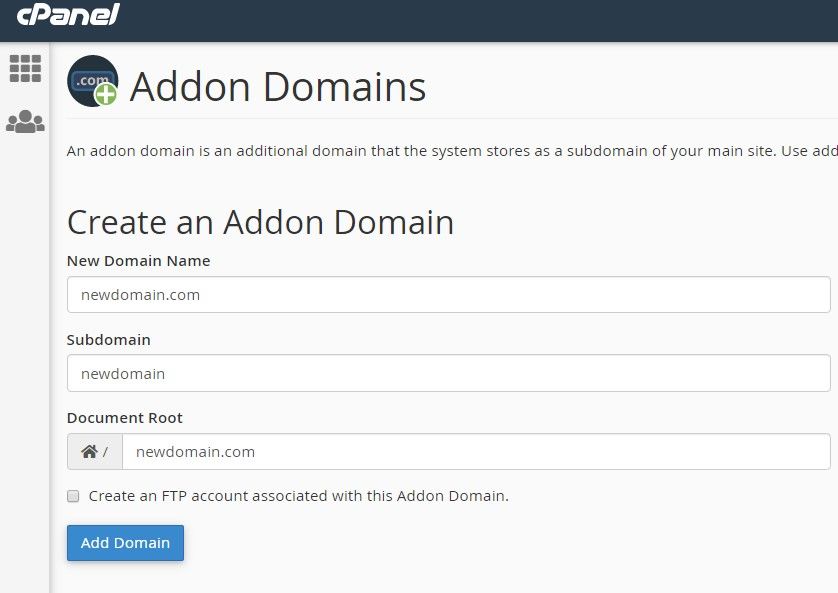 And to install WordPress, here's a simple start a blog guide.
Now, from File Manager, select your old domain folder and copy its contents over to your new domain's folder. This will override previous WP and be available in WP script installer's dashboard, subject to its actions.
Note: This guide keeps everything simple. But, if you want to use FTP it's okay but that won't be covered here, maybe in a future post.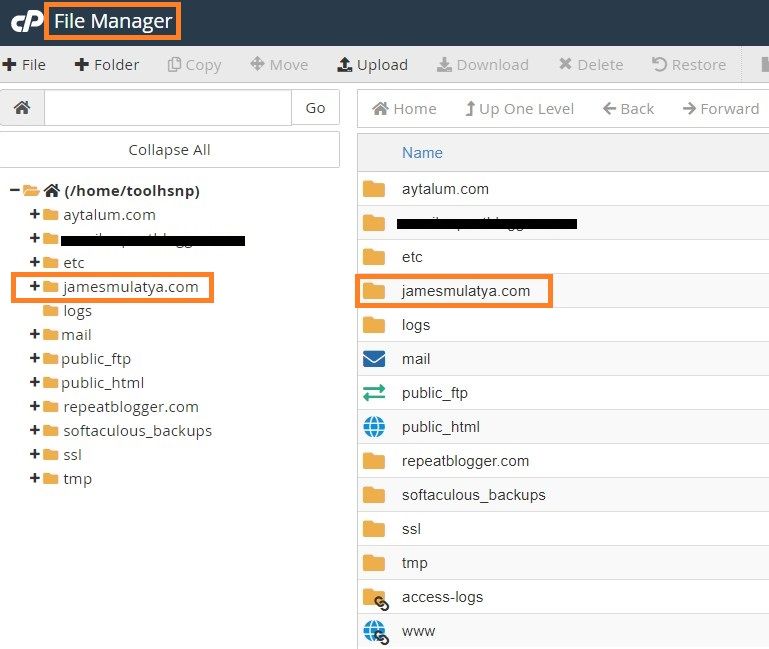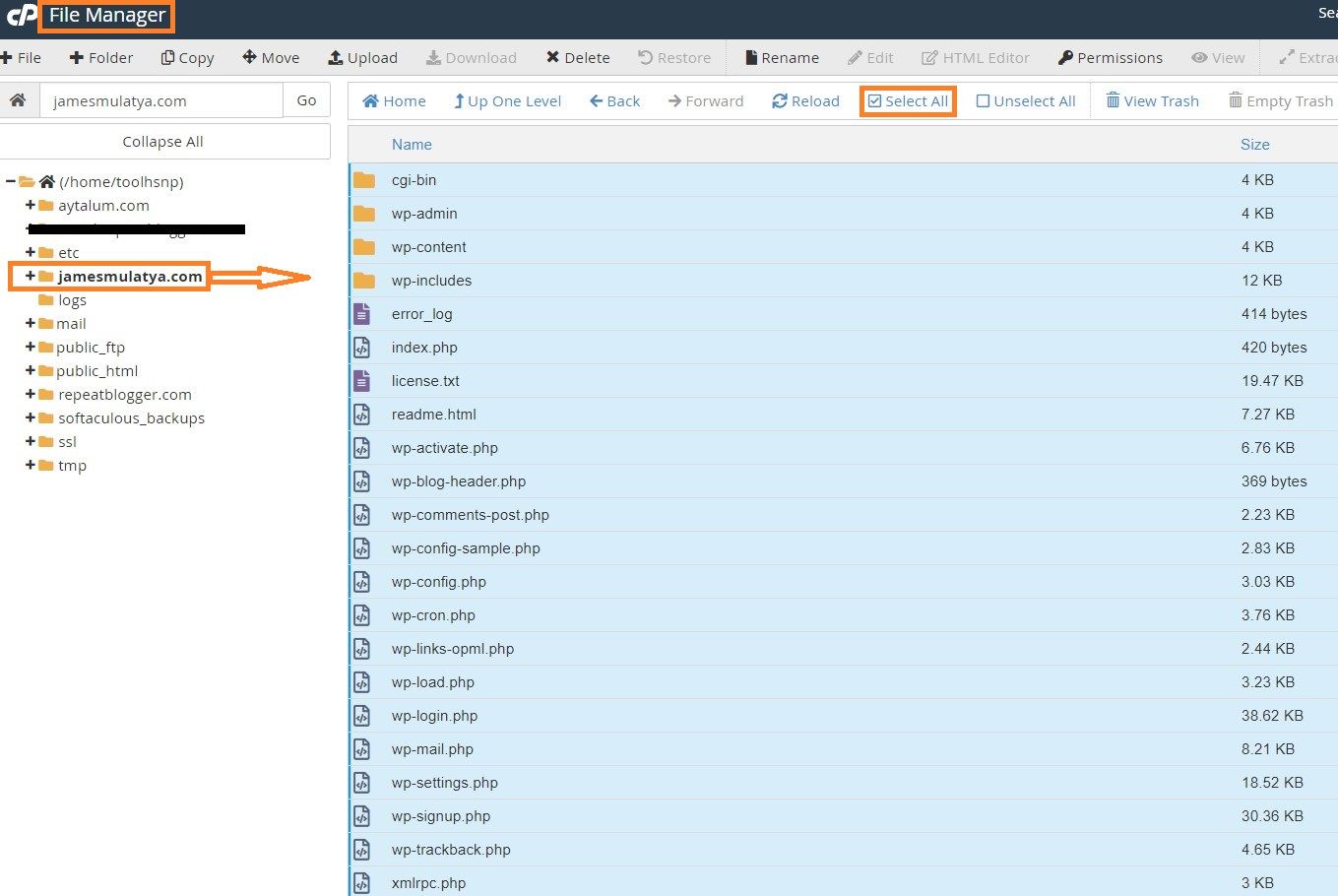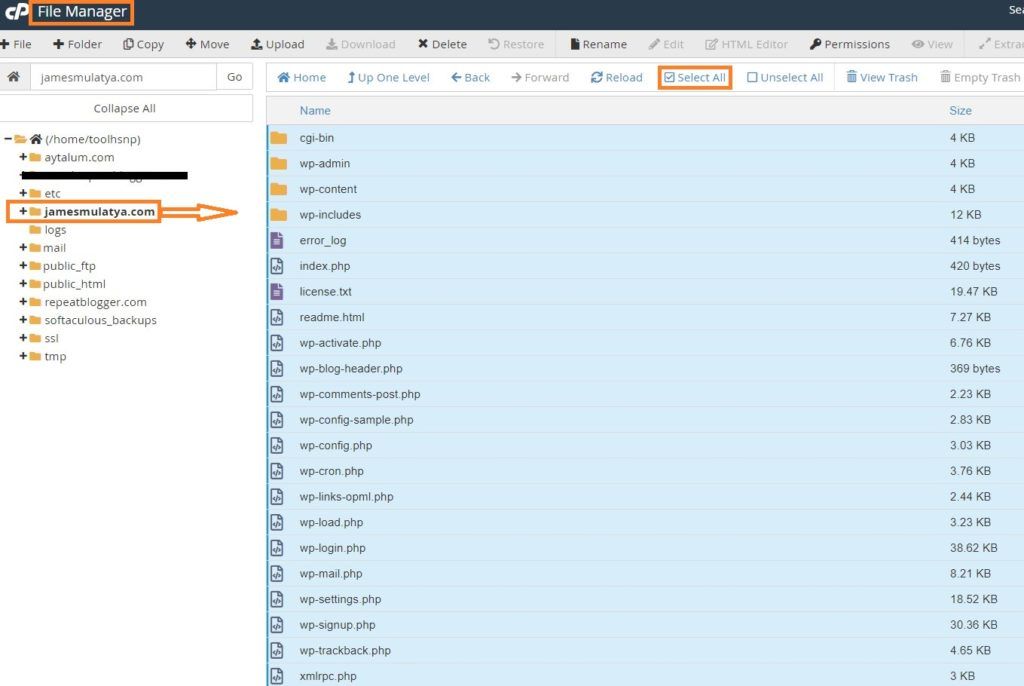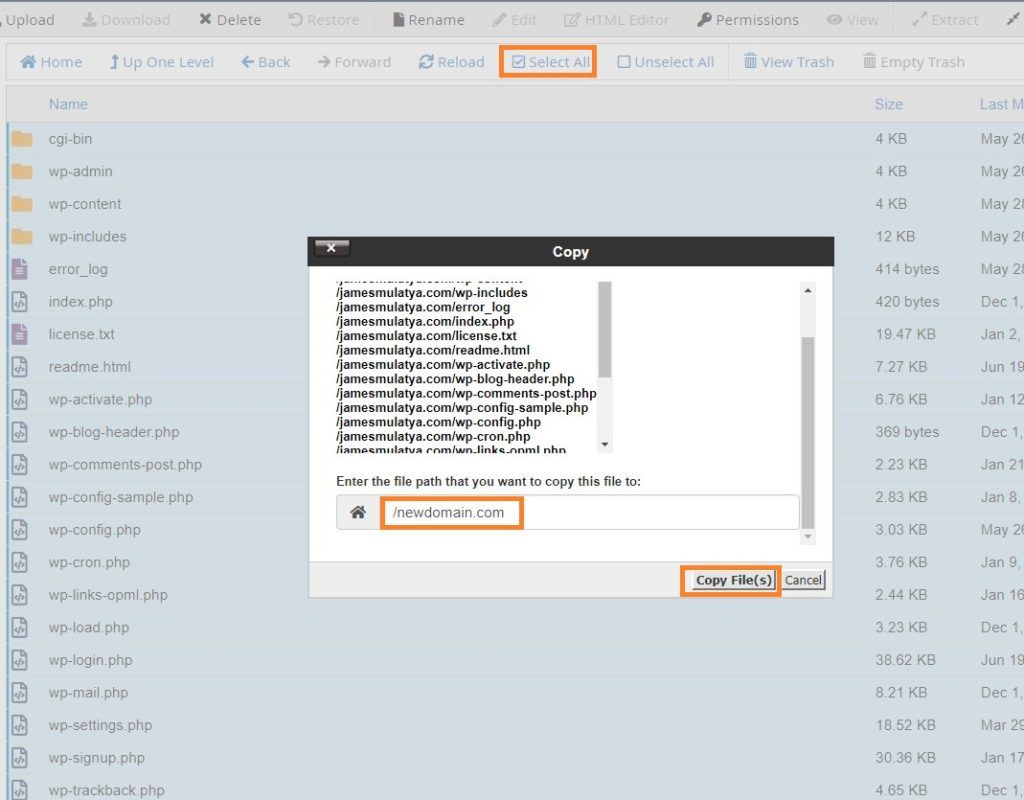 Once this is done. You're done with the backend stuff for now.
Log into your previous old website (..olddomain.com/wp-admin). And follow the steps below.
Step 4: Change Your URL Within WordPress.
To change your old domain name to your new domain name from within WordPress. Log in to your WP admin Dashboard and go to Settings > General.
From there (General Setting page), update WordPress Address (URL) and Site Address (URL) with your new domain address.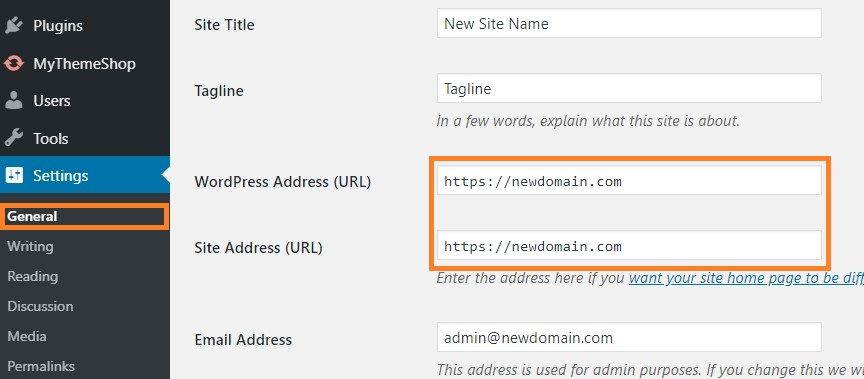 You will be logged out, at which point, log in from your new domain name. Ie. https://newdomainname.com/wp-admin or https://www.newdomainname.com/wp-admin. Depending on which one you prefer or specified earlier.
Note: Your username and password will be your old website's. You can change them later on, so, no problem.
It's now official you've moved your WordPress website to a new domain name on the same hosting in the simplest way possible. But there are several steps you still need to take before you're in the clear.
And part of that is making sure all of your old domain name URLs are updated with the new one.
To do this, follow the next step.
Step 5: Replace and Swap All Old Domain URLs With The New Domain Name.
To replace every instance of your old domain name with the new one manually, will be a guaranteed headache. Even more so if your website is packed full of content.
This is where we need the help of Search and Replace plugins, to make this possible headache of a situation, a push-button style affair.
So, install this Search and Replace Plugin in your new WordPress. And simply search and replace all instances of your old domain name throughout the entire site with the new domain.
Personally, I used two Search and Replace plugins to get the job done well, namely: Search & Replace and Velvet Blues Update URLs. (a big thanks to their teams btw :))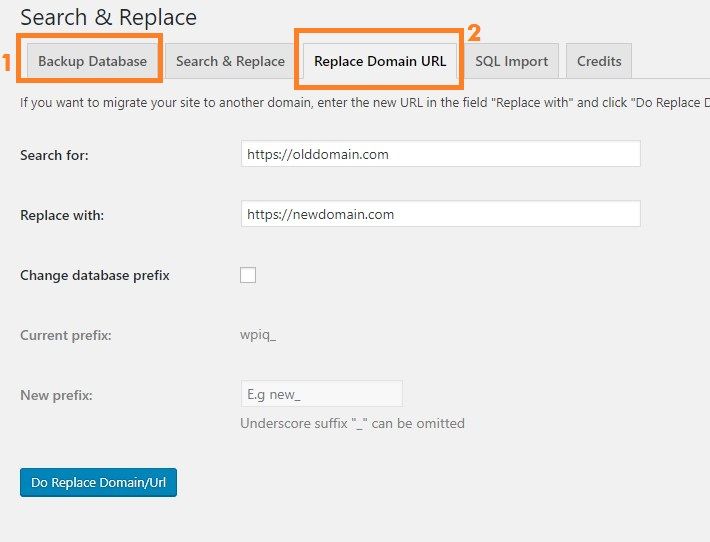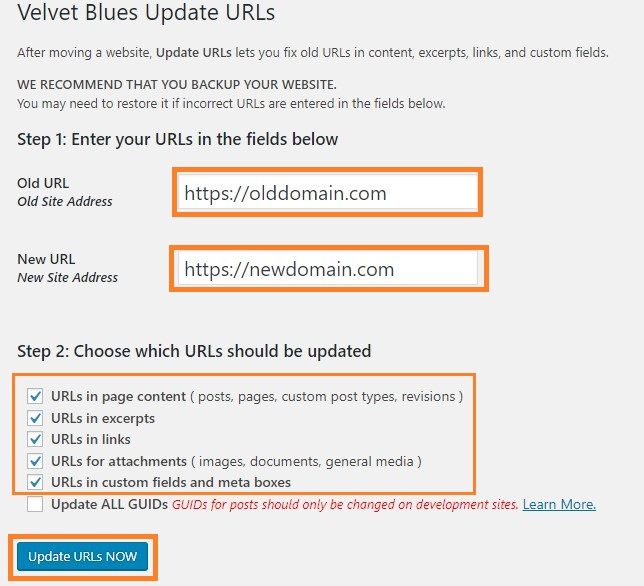 Start with Search & Replace, then Velvet Blues Update URLs if something's left. Both will be under Tools menu.
Once this is done, clear your cache and refresh your browser.
At this stage, you're almost done and most of the tuning completed. But a few of them will still need further attention (more on that in the next step).
Step 6: Change or Update Your New Site's Details.
Now that you've moved your WordPress site, it's time to update a few things.
If you're not artistic enough, you can still get a superb logo done with professionals, on freelance sites like Fiverr.com for just $5.
Make sure you go over all your legal pages to make sure all is well. These pages include the Privacy policy, Cookie policy, Terms of Service, Affiliate disclaimers, etc.
Once you're done with this, the last step will be to redirect your old domain name to the new one.
Step 7: Redirect Old Domain to the New Domain.
This is a crucial step to ensure you don't lose all your previous domain's SEO power and also help with good user experience.
So, to do this properly, you must set up a server-side permanent 301 redirect to your website.
Doing this will ensure users from search engines are redirected properly to your new domain home, with no 404 errors.
So, to do this while keeping things simple. Go into your cPanel and choose the Redirects option.
And on the page that follows, 301 redirect your old domain to the new domain.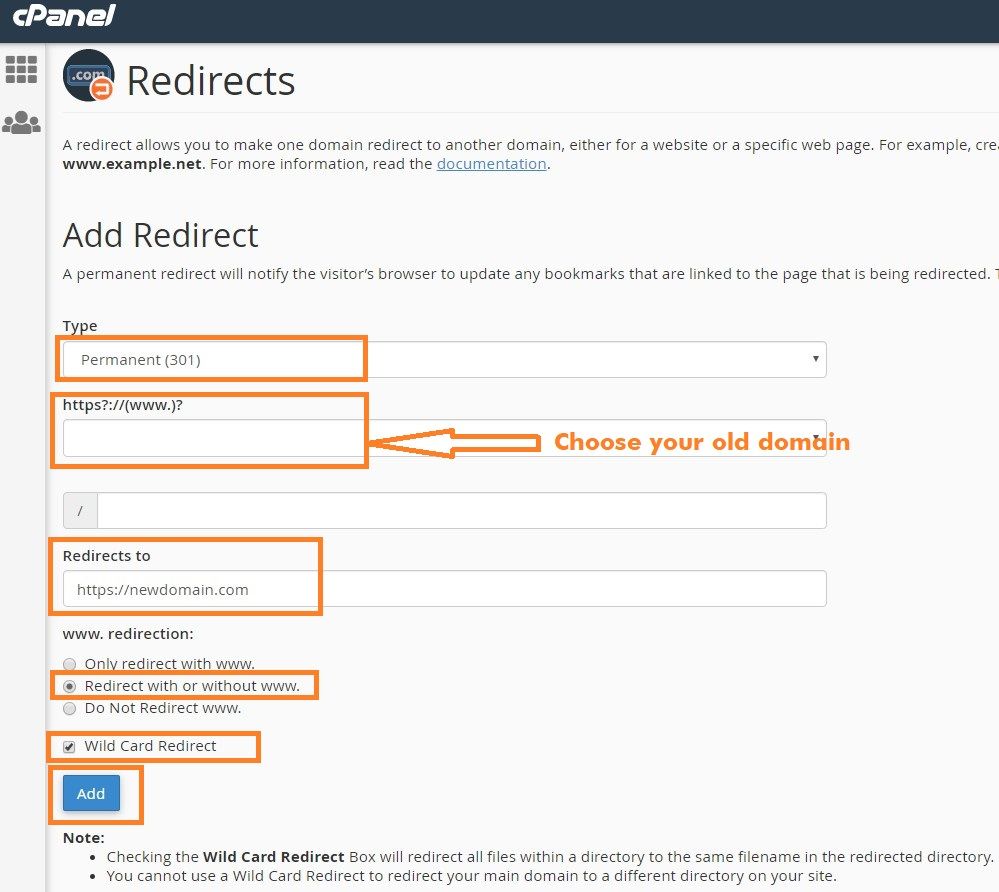 What this does, is it adds a line of code in your .htaccess file notifying search engine robots you've moved addresses permanently.
The following is for your information purposes only, and there's nothing else you need to do for this step.
This .htaccess is present and hidden on your website's folder. To unhide it, click on the setting gear on the top right corner and select Show Hidden Files (dotfiles) option from the pop-up window.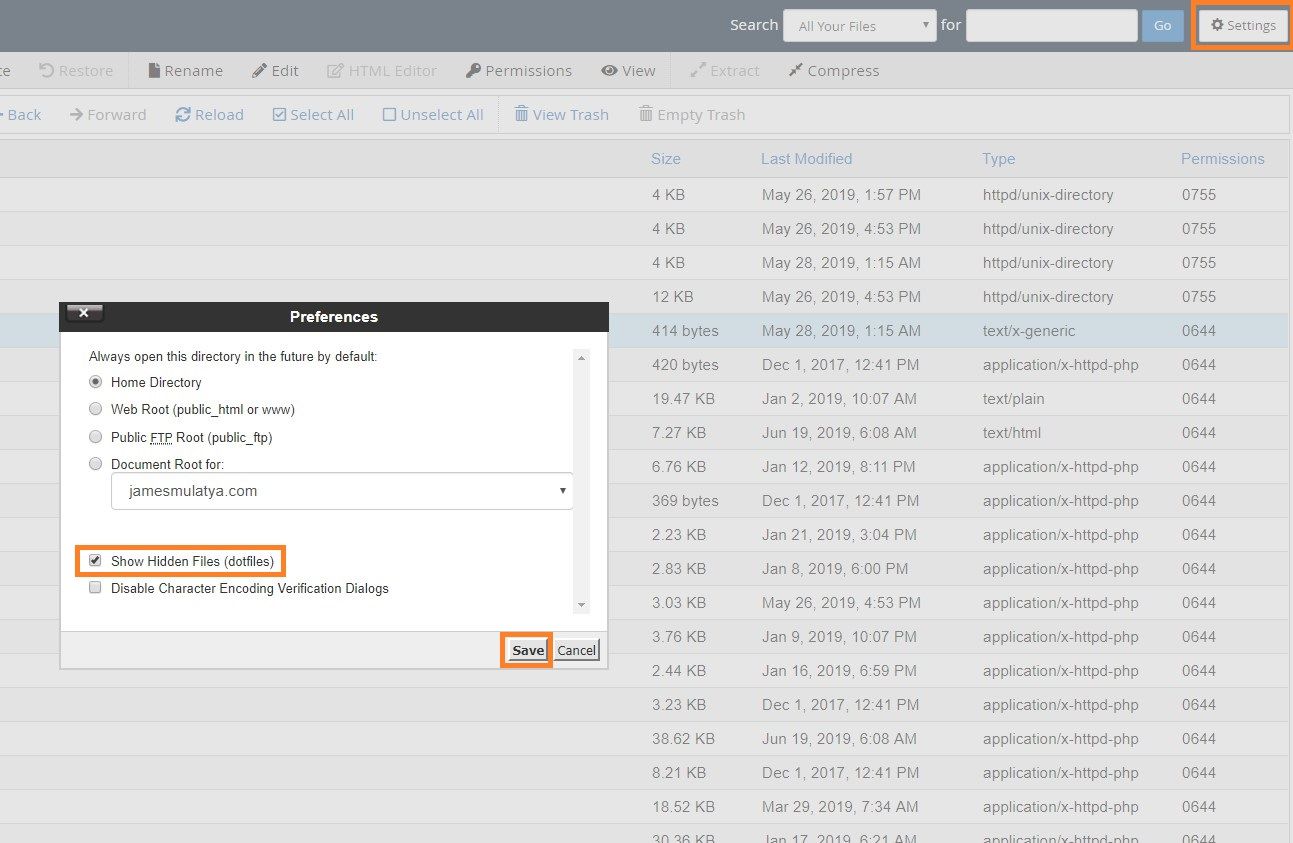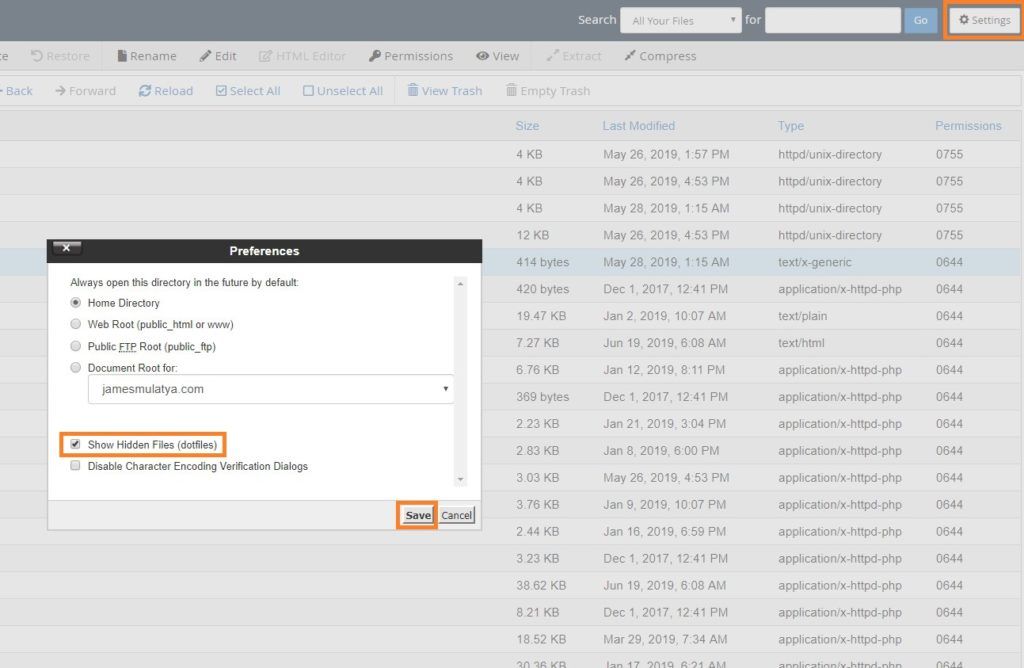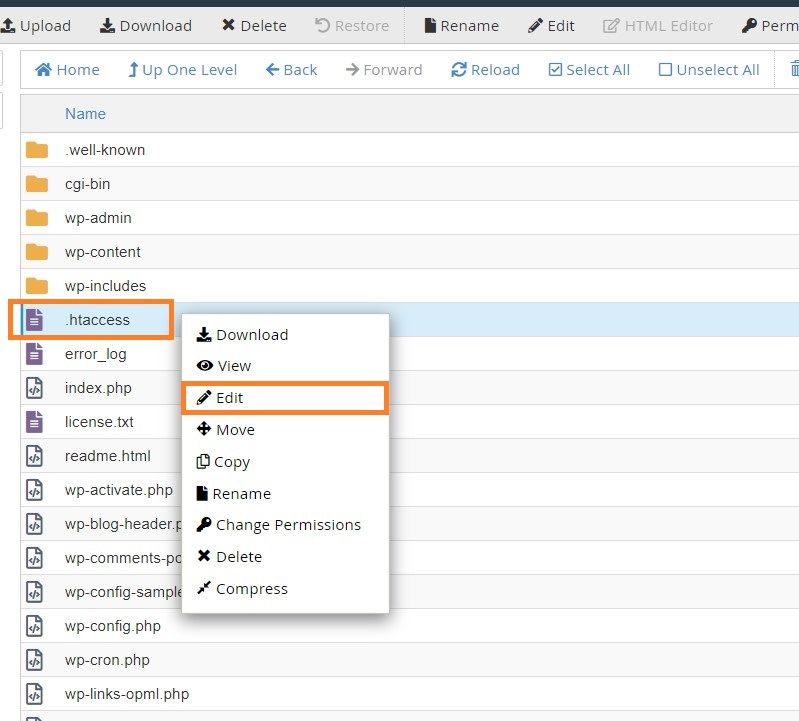 And to view its contents, right-click on .htaccess file, and select edit, even on the next pop-up.
As you can see, you won't need to hand-code the line above as it's done automatically for you. 🙂
Congratulations on moving your WordPress site to a new domain on the same hosting. The next tutorial is for moving it to a new domain on different hosting or the same one too, but with the help of a plugin. It's even easier. 🙂
But if you've followed the above tutorial, you can safely skip the next one and move on to the final step. Updating Google on the domain change.
How To Move Your WordPress Site to a New Domain Using a Plugin.
The above process is somewhat easier here, as you'll be using a WP plugin to help you out. All in one WP Migration.
It's perfect if your website is small in size, but if you have a big website, with over 512MB in total size, you'll then need to buy its premium version to up the upload limit size. If not, do it manually like so above, use an FTP client like FileZilla, or follow upload-size-lift workarounds found online.
Either way, you'll have to download and upload your website to its new domain on your chosen host. And follow steps 5, 6, and 7 in the previous section.
So, without any further delay, here's a video from MAK on YouTube showing you how to do it.
Moving WordPress Site to New Domain Using All in One WP Migration.
With these two methods, changing your WordPress site's domain name or moving it shouldn't be a challenge anymore. But once done, the final step below is a MUST.
Updating Google On Domain Change.
Now, this is the final step. Updating Google you've changed domain addresses.
Nothing to worry about, though, as this step is super simple.
The first thing you'll want to do is update your website's Google analytics code.
Then after, add your new site to your Search Console account, verify its ownership, and resubmit your new website's Sitemap.
And once this is done, use the Change of Address Tool (supported only in old Search Console), and submit the change of address request. This part is super simple, and all you'll need to do is follow through the 4 steps.


Congratulations!
If you've followed through and you're now done with this step, you've successfully moved your WordPress site to a new domain name.
Hurray!
Wrapping Up.
Take down the Maintenance Page and introduce your visitors to your new website home. Email your list about the change, and if need be, get their feedback on it.
Thanks for reading through, I've tried to make this tutorial as simple as possible and it's my hope you got lots of value from it.
If a step wasn't clear enough, though, comment below about it, and I will make the necessary changes to benefit you and everyone else.
That's it from me today on how to move your WordPress site to a new domain name, in a simple and less technical guide.
But what did you think? Was it easy to move WordPress site to a new domain name? Or change a WordPress site's domain name? Do you happen to know of a simpler method? Kindly share with us your views in the comments below.
Till next time.
Stay blessed!