Both Redbubble and Shopify are E-commerce stores that provide an online marketplace to independent sellers from world over. Both these platforms were founded back in 2006. However, the range of selling on Redbubble is mainly directed towards artists. On the contrary, sky is the limit when it comes to selling on Shopify.
But anyway, that alone doesn't make one of them better than the other. We'll review both these stores based on their services, quality, and selling opportunities. And you can weigh the pros and cons to decide what suits you best!
How does Shopify work?
If you're struggling with selling your services or products online, then you should definitely know how Shopify works. And then, consider giving it a try to notch up your business a bit.
Shopify gives everyone the privilege to create an online store and advertise as well as sell their products. Basically, Shopify provides you with a legit platform for selling products while giving the customers the satisfaction of buying from trusted sellers.
This is what someone had to say about it on Reddit:

Apart from selling online, you can also sell your services or products in person, in store, or out in the trunk of your car. Shopify helps budding businesses reach more people and hence, multiplies the audience and boosts the clientele.
Now you may wonder what possibly you can sell at Shopify. If you already have an idea, that's great for you! However, people looking for inspirations can consider
Physical products such as jewelry, T-shirts, or bath bombs etc.
digital products
services and consultations
memberships, classes and lessons, or
Rentals
So when I said sky is the limit, I really meant that because Shopify has got you covered in all ways.
How does Redbubble Work?
As mentioned earlier, Redbubble is a great place for all the artists out there who want to bring their creativity to life. Redbubble is a platform for independent artists willing to sell their designs.
Redbubble operates in a really simple way. As a customer, you can select any design you want from the artists' gallery and get it printed on a product of your choice. It can be a T shirt, a handbag, a mug or anything as simple as a mobile cover. You get the design printed on your desired product and the artists get paid for it.
Just some genuine advice from a Redditor:

As a seller, you just need to set up a Redbubble shop and upload your designs over there and leave the rest to Redbubble. In case of a sale, you receive your share of money and the rest goes to Redbubble.
Now before you get started on Redbubble, you should know that you'll just be a seller of your art at Redbubble. In another case, where you set up your own shop you'll be able to grow yourself as an individual artist when people buy directly from you.
Anyway, Redbubble is an amazing platform for anyone who cannot go through the hassle of setting up an independent online store.
Is Redbubble Legit?
You can shop from Redbubble without any worries because it is legit for sure. Redbubble is in business since 2006 and has been an ever-growing business. It has gained quite a lot of name over the years and that too, for all the good reasons. So the fact that Redbubble has been flourishing all these years clearly suggests that it is doing some authentic work.
Also, based on the experiences of many people, I can easily conclude that Redbubble is totally legit. It is not a scam and you can rely on it for selling or buying both.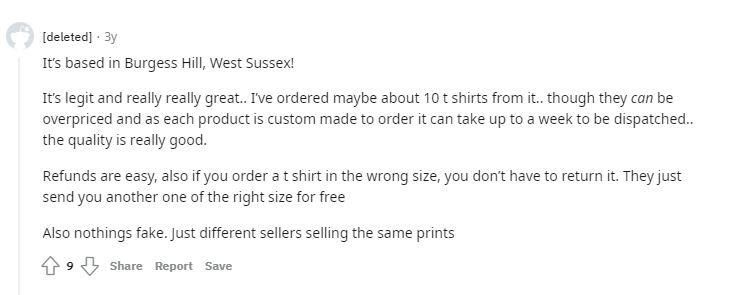 This person for instance cannot sing enough praises for Redbubble. And that is just one person out of hundreds more that I've seen.
Is Shopify Legit?
Like Redbubble, Shopify has also been around for quite a long time. And without a doubt, it is an authentic platform for buying or selling. Although I have seen some reports of scams at Shopify but I'm pretty sure that a few precautions can save you from trouble.
Shopify sure is a brilliant way to generate a handsome sum of money especially if you're manufacturing things on your own or offer something different from the mainstream market. Many people have been using Shopify for drop shipping, however, lately it hasn't been the best option.
This person on Reddit sharing their experience:

In short, whatever you decide to do, you can rest assured that Shopify is a legit platform to start independent selling.
Returns are Hassle Free at Redbubble
Purchasing from Redbubble is a simple process and so are the returns. As a customer of Redbubble, you'll enjoy an absolutely hassle free return policy. If you're not satisfied with any product, then you just have to visit their website and file a return request. The rest of the process will be taken care of by Redbubble themselves.
And what's more amazing is the fact that their return policy is viable for 90 days. You can return your order within 90 days of your purchase with an exception for face masks that should be returned within 14 days.
Shopify offers Independent Return Policies
As a seller at Shopify, you can create your own return policies. However, Shopify itself promotes customer centered return policies that are beneficial for the seller at the same time. You can generate a return policy based on Shopify guidelines. To find all the details regarding Returns and Exchanges, click here.
On the other hand, as a customer you shouldn't be bothered much about the returns. You can use multiple apps like Return Magic or Returnly for a simple and easy return process or file a return request at Shopify directly.
Customer Support
Redbubble
Redbubble is a wonderful organisation to deal with. They offer a really reliable customer support. They are quick to respond to any customer complaints or queries.
Therefore, you can rely on their services and purchase a product of your choice. In case of a bad experience, you can reach out to their team on their website.
Shopify
Unfortunately, Shopify is not as great in terms of customer support. They are almost clueless about it and most customers claim to have had a horrible experience with their customer support team. Some people also label it as a "Hopeless Case".
Anyway, I do acknowledge the importance of a good customer relationship but if you're ready to put that aside, Shopify is a good place to start buying and selling.
To reach out to Shopify Customer Support Team, you can visit here.
Product Quality
Redbubble
While most people believe that Redbubble is an absolute rip off, I think otherwise. When you're buying from Redbubble your main concern is not the product you receive but actually the idea behind it. So you're basically paying for the artists' hard work and the product is secondary.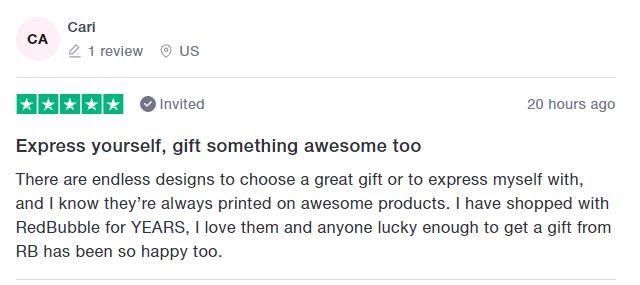 I really think that Redbubble is totally a great place to shop for unique stuff. You support budding artists and receive an unconventional design in return.
They're not perfect in terms of quality, that I agree. For instance, you'll get a cheap print out in a rare case or receive a sub par item in general. But most of the times, they effortlessly meet the expectations of their customers.
And of course, the best part is the fact that you can get the desired artwork printed on any product of your choice
Shopify
Unlike their customer service which I wouldn't like to write home about, their product quality is well maintained across a variety of sellers. Most people have had a great experience buying at Shopify. They have a huge inventory to shop from and you can find varying prices from different sellers.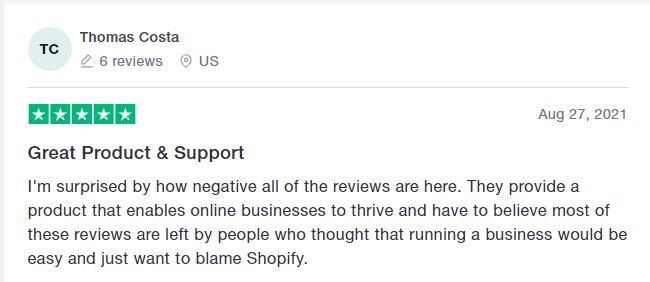 You can purchase products from standalone sellers and check out customer reviews sbefore you make a purchase. The easy interface allows you to browse through a plethora of collections and make your purchase accordingly.
Shipping and Delivery Services
Redbubble
Redbubble offers a shipping service to almost every region in the world. Your orders from Redbubble get shipped via FedEx, DHL, UPS, or USPS. You can find an estimated delivery date and tracking information for your order at their website.
However, tracking is not always available depending on the delivery partner. Overall, the orders ship right on time and reach to your doorstep in accordance to the given shipping date. In some cases, due to Covid restrictions you may experience a delay.
Shopify
Shopify works with multiple carries to deliver the packages to their customers as early as possible. They offer a delivery service via UPS, USPS, and DHL in Canada, US, and Australia. You can get your package insured, delivered overnight, tracking information, or international shipping depending on your location.
Final Verdict
Putting one of these platforms on the pedestal will be quite unfair. Because although, in essence they are same i.e. they offer a selling platform to common people, both Redbubble and Shopify is directed towards a different audience. So I'd say that you should choose your buying/selling platform according to your requirements.
Related Posts