If you're looking for ways to convert text to video online and tap into the power of video marketing. You're in the right place.
Now I understand that the best way to convert text to video is to hire a freelancer from a site like Fiverr to get the job done in the most professional manner, but you can still accomplish the task using the tools I've mentioned below.
While creating 2D & 3D animation, doodle sketch, explainer, and full-motion videos can be somewhat expensive and time-consuming. Turning text to video online can be both quick and inexpensive.
Btw, if you are in a hurry, here's my favorite freemium tool when it comes to converting text to vides online
Like using Microsoft's Powerpoint and MovieMaker, as well as other stand-alone desktop software like Movavi and Camtasia.
But in this post, we will only look at freemium online tools.
Why Would Anyone Want To Convert Text To Video?
Simple! Content Repurposing.
You've taken the time to write a killer blog post or created a great landing page and the last thing you'd want is to just be content with them as is and assume every person likes their content in text. This is because you'd be wrong.
You see, repurposing your content helps you reach a new audience who prefer taking in their information in a different format.
Some of your audience will prefer taking in summary points or statistics in a nice visual infographic. Others will prefer this information in a video format. Yet others in a podcast.
Note: Read this guide if you don't have a WordPress blog already ands would like to start one.
Now that you know it's important, let's see how you can go about doing it.
Shall we?
7 Ways To Convert Text To Video Online.
1. ANIMAKER
The first tool on our list is Animaker. One of the best and fully loaded video editors online.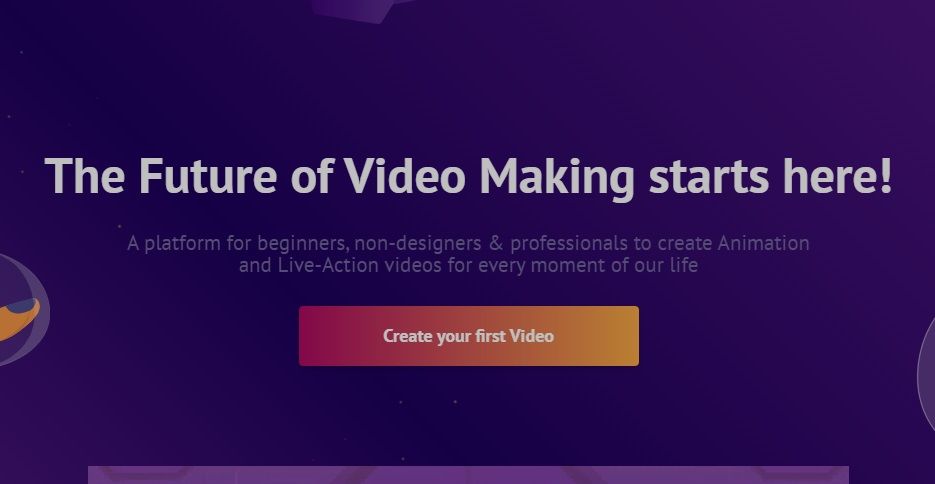 Not only does it do what the rest below do, but does it better in all fronts from simplicity, function, capability, and integration, to output. You have to use it to believe me.
With InVideo, you get a built-in asset library of over a million copyright-free stock images and videos. Ability to choose your desired video format and create multi-lingual videos from pre-built assets or completely from scratch.
Editing videos is done in one of two modes. Storyboard or in advanced mode depending on your editing skills and level of customization you want in any given video.
Either way, you'll be able to convert text to video to create storytelling, promo, Instagram stories, listicles, and AD videos with extreme ease.
You will do this in just three simple steps. 🙂
Pick a theme and add in your script.
Upload your own or search assets within the editor and add them on your dashboard.
Add finishing touches like text, shapes, stickers, icons, animation, music, and overlays to name but a few. Export your video and you're done.
Tutorials are also in plenty to ensure you not only get the maximum usage out of this super editor but also professional marketing videos like the pro's.
All videos created on free accounts bear their branding but you can remove it with a plan upgrade if need be.
What's cool, though, is that the videos start at HD (720p) quality and not lower like with some editors. So if quality concerns you, and it should, you'll love Animaker.
The best thing about Animaker is that they have a very helpful library of detailed tutorials showing you how you can create easy but powerful marketing videos using Animaker.
You can watch Animaker Tutorials Here.
2. WEVIDEO.
With over 30 million active users, there's no denying WeVideo is the online video editor of choice for many video creators who appreciate the ultimate simplicity of function in their applications.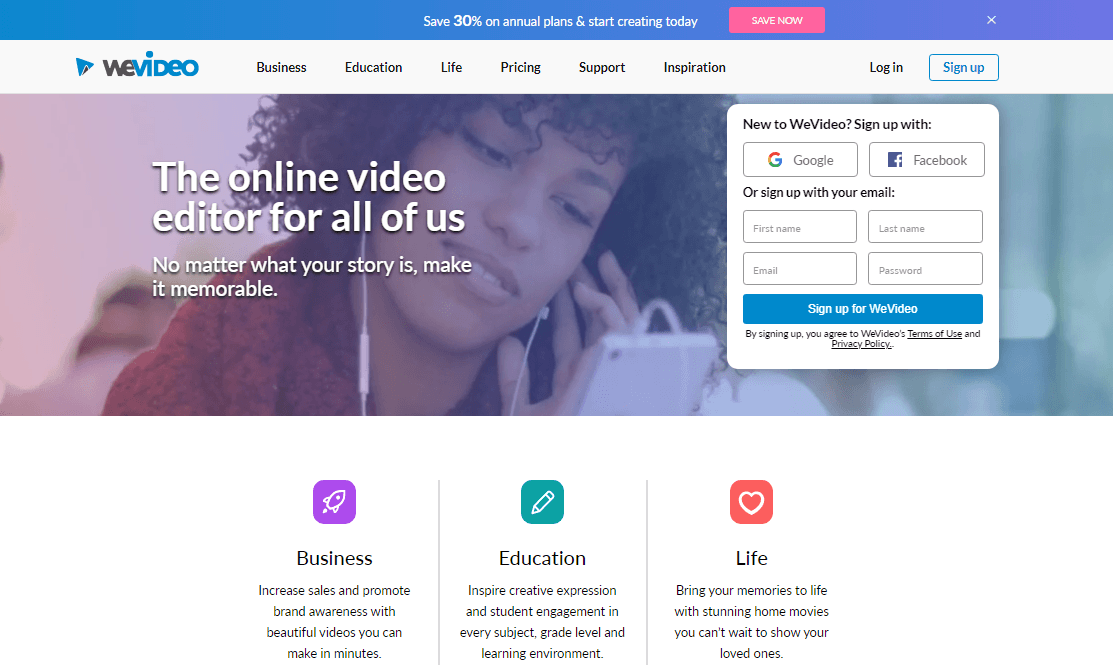 From businesses to students, for marketing or learning, WeVideo is the ultimate video editor you should use.
And for bloggers, not only can you make simple videos from articles with it, but you can also create and edit complex tutorials for your audience.
This is way more than you'll get with pre-template-only web-based video editors such as some listed below.
Other features of WeVideo include the ability to edit and add green screen videos, a built-in royalty-free stock library of over 1 million, commercially licensed media assets; videos, images, and music, you can use in your videos, and support for 4K Ultra HD video resolution output. 🙂
That's not all, though. You can record your screen and webcam separately or together, export your videos in the square, vertical, and horizontal orientations for us on different social media sites, and conveniently edit from your iOS and/or Android mobile using their app.
Did I mention you can also create your own video templates for faster video production? Or that you also get free cloud storage for your videos? Motion titles, voiceovers, screencasting, podcasting? No? Well, it's all there for you.
You'll get all these features and more. 🙂
And don't worry, all these features don't make the site lag (we all hate that). In fact, using it couldn't be faster and easier.
Step 1: Sign up and answer two customization questions to get your account created and personalized to you.
Step 2: Choose what to create; video, recording, podcast, etc. or start out with a template.
Step 3: Select your preferred orientation; square, vertical, or horizontal, for the video you're creating.
Step 4: Add in your video content; text, video, images, music/voiceover, effects, and style/edit them to your story/message.
Step 5: Title and export your video in the desired quality and format (mp4/mp3/GIF) to your computer or directly publish to popular online destinations; YouTube, Dropbox, Vimeo, etc.
Done! 🙂
Note: Videos created on the free plan have a watermark that you can remove at any time by upgrading (memberships start from just $3.49/mo :)).
Also, there are plenty of guides and tutorials given in their help section to help you hit the ground running, creating awesome and profitable videos fast.
Even so, below is one such tutorial that nicely ties together the above steps for you to see what you can do with WeVideo. Truly powerful and the ultimate choice.
Use WeVideo For Free Now
3. WAVE.VIDEO.
Next up is Wave.video and it's also another awesome way to get started with converting text to video online for free.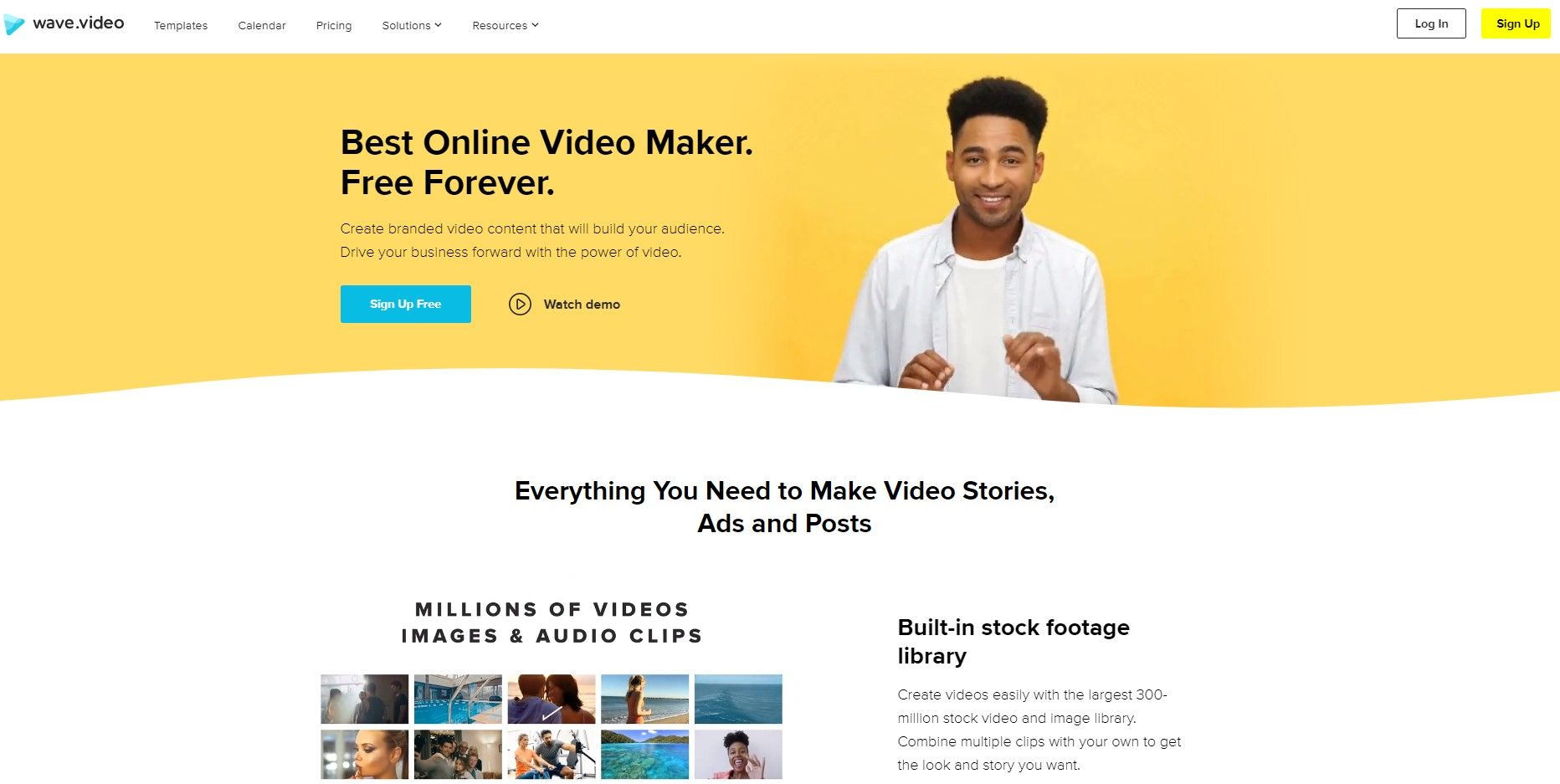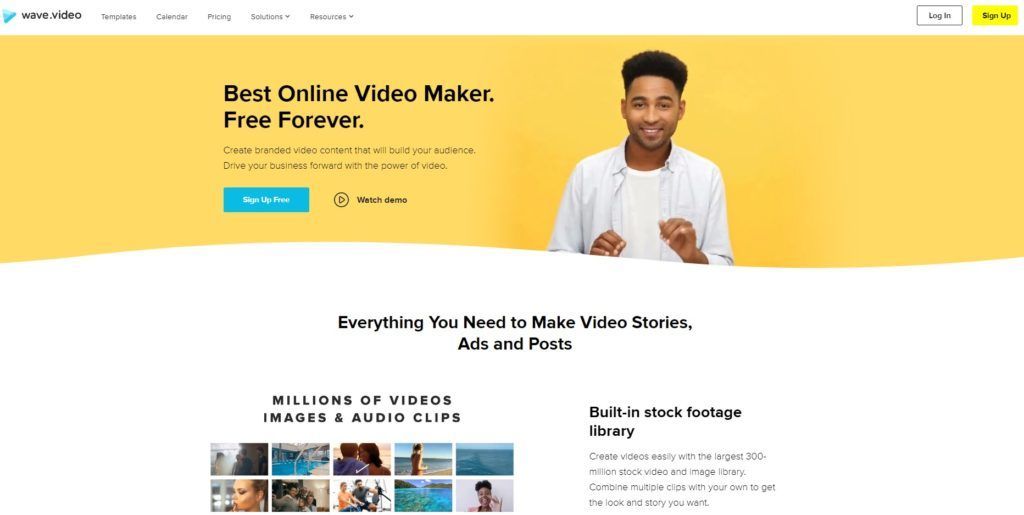 You get a free-forever account, lot's of editable done-for-you video templates, animated text effects, GIFs, emojis, stickers, and over 300 million stock video assets built-in for your convenience, to name but a few.
All you have to do is pick a video template to edit, choose your desired video format, edit the text, add a few effects, animations, and music, and you're done, my friend.
With Wave.video you have all the creative freedom to create the exact video you were looking or hoping for. You'll be able to upload your own creative assets, change fonts, colors, backgrounds, add voice overs, logos, etc.
Here's a simple walkthrough video from them showing you how to use it.https://www.youtube.com/embed/RQaM79O33kk
VISIT WAVE.VIDEO
4. LUMEN5.
It's no secret A.I is taking over and businesses everywhere are taking the advantage to propel their success forward like never before. And one such business is LUMEN5.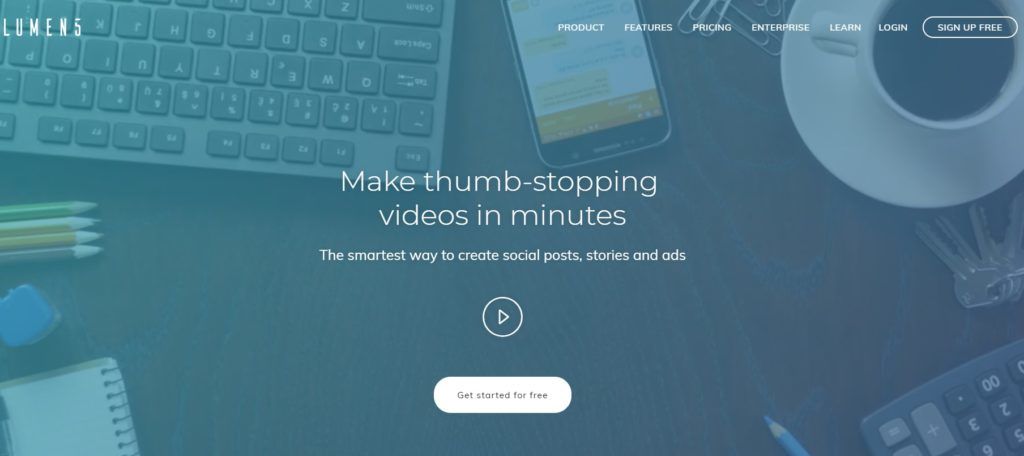 LUMEN5 uses A.I to help its users create truly stunning and engaging video content faster and smarter.
This means creating social posts, stories, ads, and converting text and blog posts to video in the simplest and fun way possible. Point, Click, Drag and Drop.
To convert text to video with LUMEN5 all you need to do is the following.
Pick a video format, choose your starting point ie with a link, text, own creatives, or from instant story videos. Select a theme, customize your message, add or change images, videos, GIFs, music, and you're done.
I like how their A.I suggests relevant media files for your convenience. And also how they have a free forever plan, though, limited to 5 videos a month.
Tip: If you don't like the ending watermark, cut it out easily for free with another editor such as Movavi, Camtasia, or even Movie Maker. 🙂
Here's a Lumen5 webinar showing you how to make great videos using it.https://www.youtube.com/embed/4bjPzVE2mOU
VISIT LUMEN5
5. TYPITO.
Typito unlike the above three lacks all the extra pizzazz. Even so, it's quite the capable text to video creator like any other.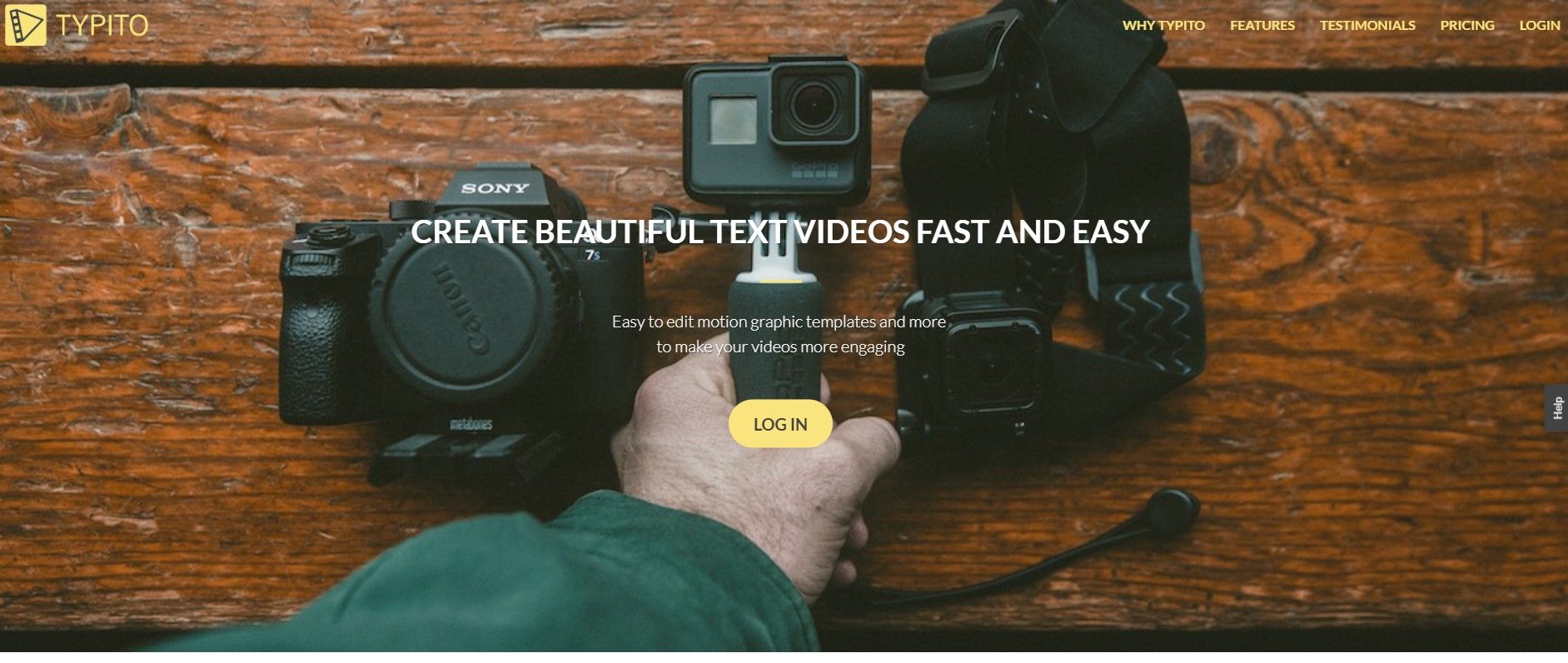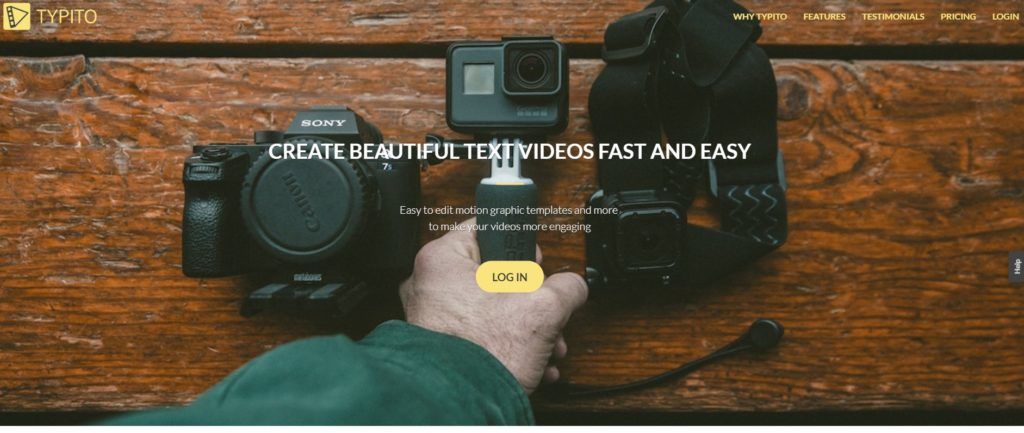 While it doesn't have a lot of built-in video assets like a huge media library or stock footage, GIFs, etc. What they've done is partner up with Unsplash to bring you unrivaled copyright-free stunning images for your video creation.
Using Typito is super easy. You start off by choosing a video format, then either uploading your own creatives or adding pictures from Unsplash.
Once this is done, you're off to editing and customizing your video with different style options within their point and click, drag-and-drop editor. After which you can export it to compile and then finally download.
You'll be walked through everything with a nice getting started interactive tutorial. So don't worry about not knowing how to use it.
Typito, unlike with the others, aside from offering a free-forever account, one can on video basis remove their watermark for only $10 without having to upgrade plans.
And another nifty thing you'll notice with Typito is their swift video transitions between clips. It does spice up your storyline and makes your videos pop even more.
Below is a video from Richard Byrne on YouTube showing you how to create a simple video on TYPITO.https://www.youtube.com/embed/tXSxI2-Snjg
VISIT TYPITO
6. VIOMATIC.
VIOMATIC could as well be the easiest of the 5 above but not as powerful. Everything from settings to customization is done on a single page. After which you can export your video.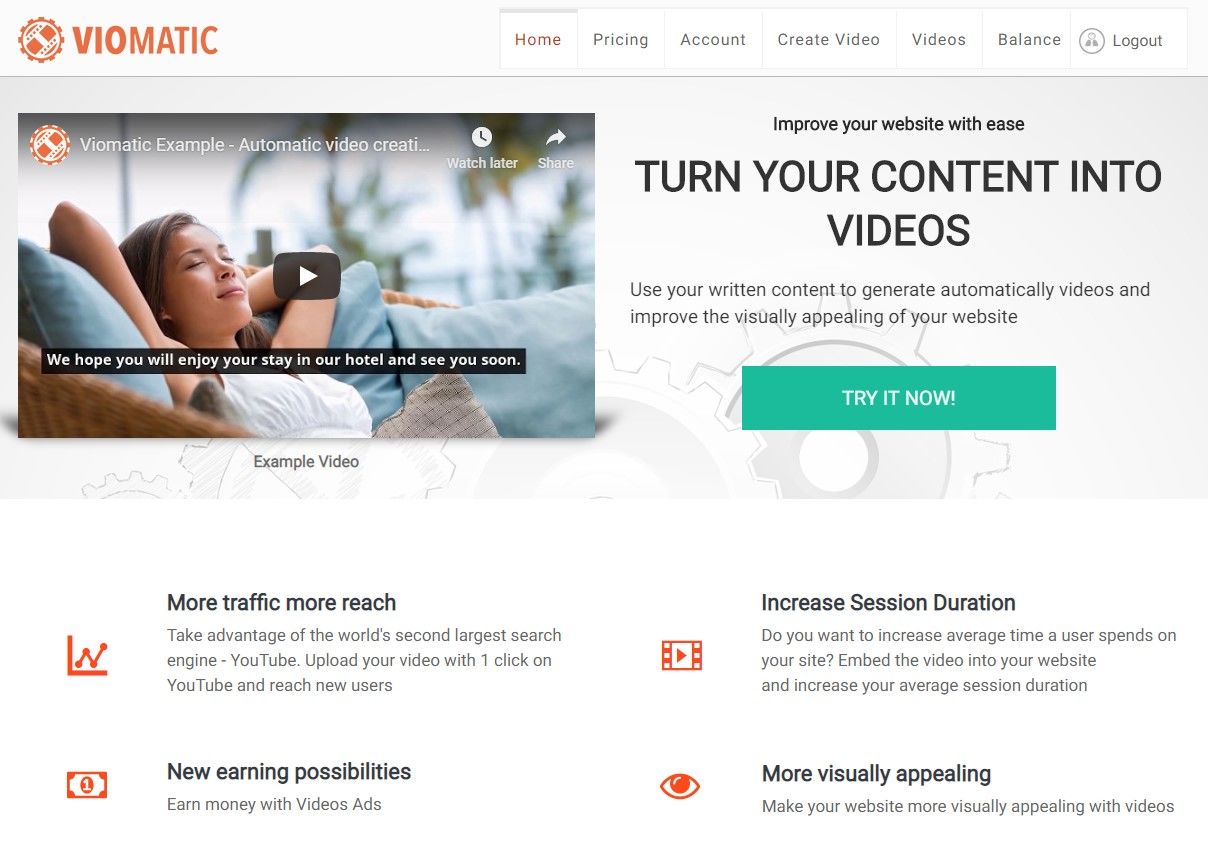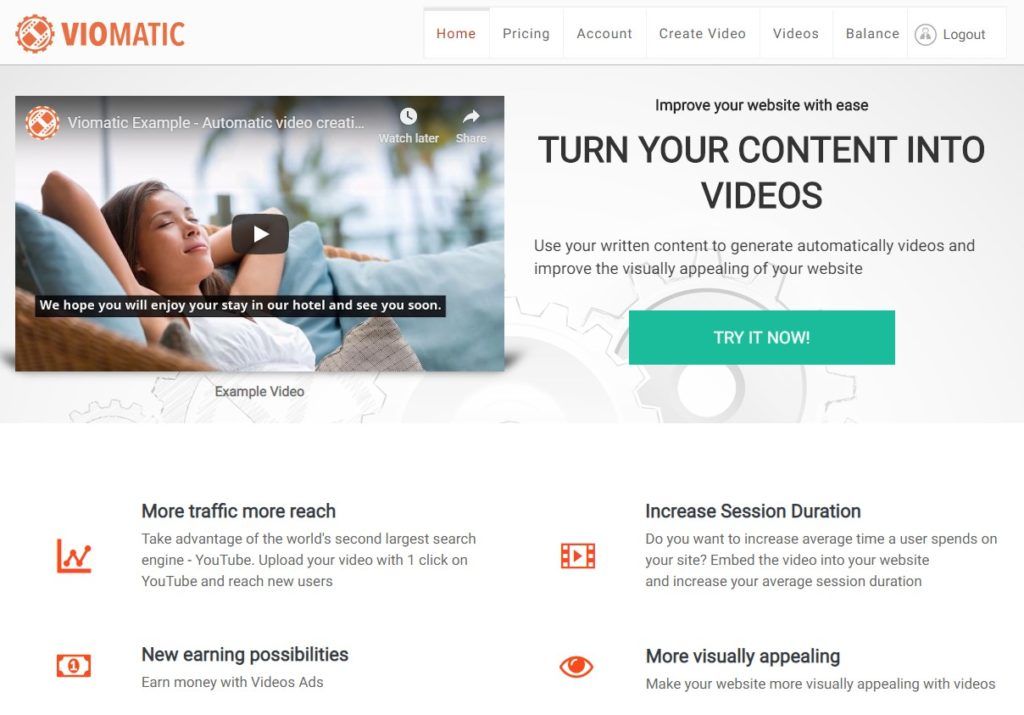 Using VIOMATIC couldn't be any straightforward. You enter your sitemap, RSS feed, or blog post's URL, and VIOMATIC does the rest.
It pulls all the text and images within the given URL. And automatically breaks this information into separate slides, each maxing at 260 characters.
Once this is done. You'll then proceed on to customizing each template to your liking. You'll be able to choose the desired background image from either Pixabay (integrated), one's you have on your blog post, or by uploading a new one.
Other settings at your disposal are such as adding music, showing text on the screen, transitions between slides, video effects, and text to speech.
Since not everyone likes videos with robotic narrations, this option is optional with VIOMATIC. And what makes it even good is that if you want the option, it's automatically done for you. So that you don't have to record the audio separately and edit it in later.
What's more, you get a free-forever account with no video creation limits, other than quality (360p) and bearing their watermark.
Here's a video from VIOMATIC showing you how to use their video tool.https://www.youtube.com/embed/bejhehegUkk
VISIT VIOMATIC
7. KAPWING.
KAPWING text to video maker is characterized by simplicity and function.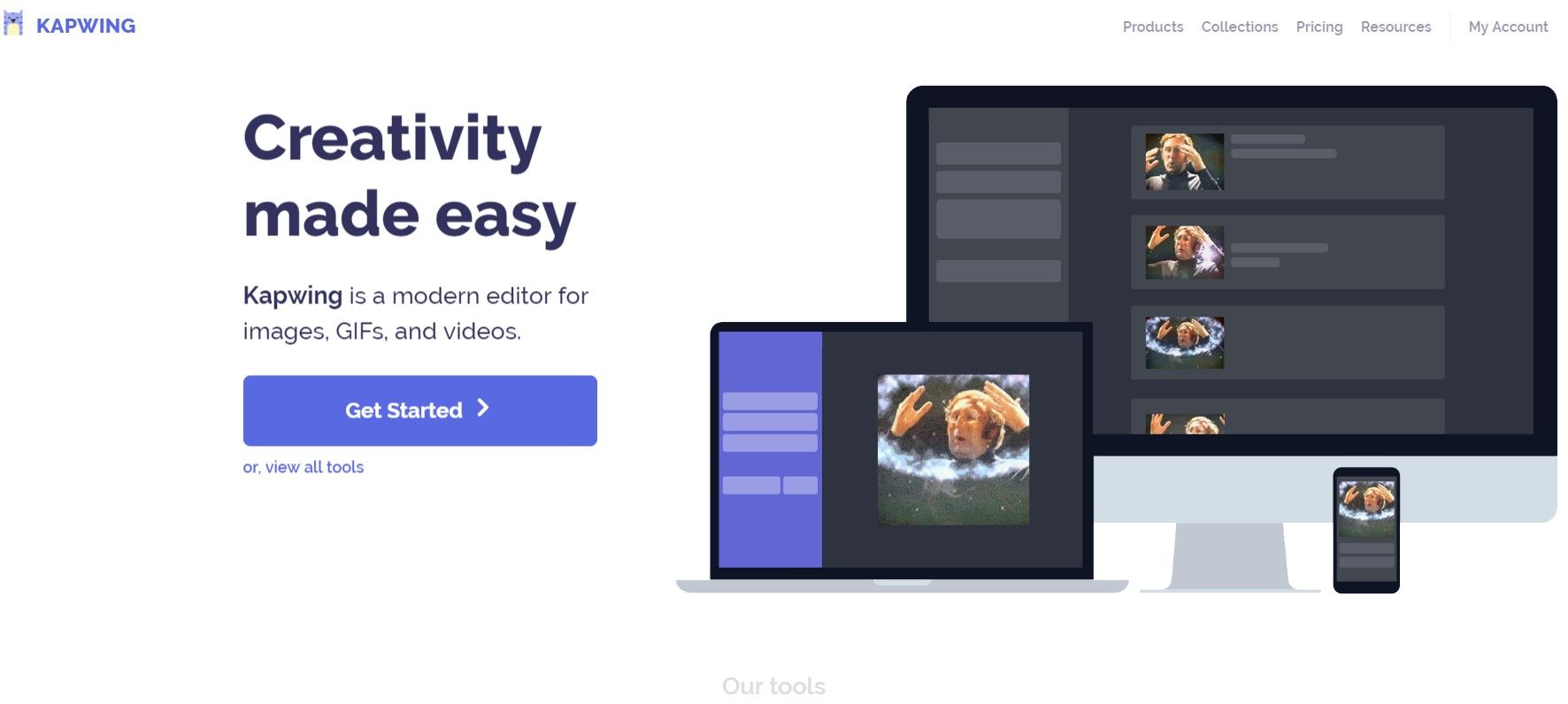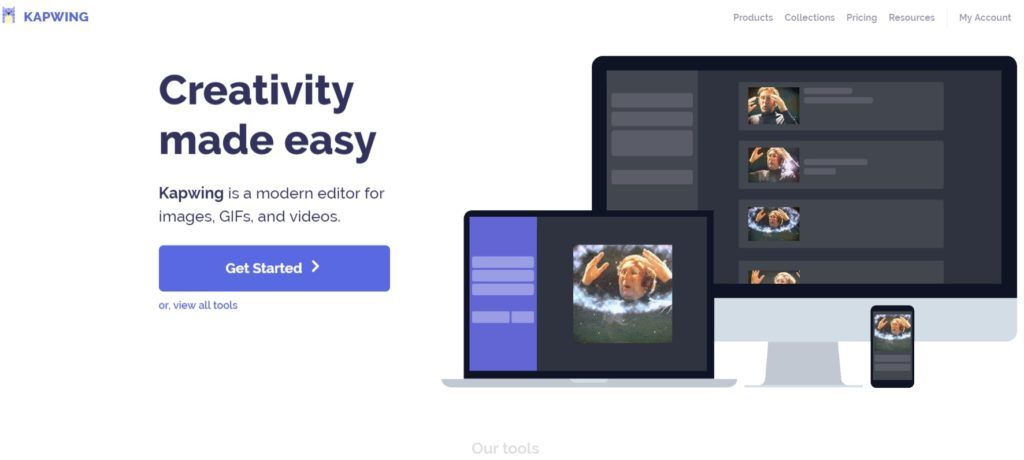 Not only is it capable of the basic text to video conversion. You'll also be able to create GIFs, generate Memes, make stop motion videos, rewind videos with effect, rotate them, trim, loop, mute, and caption them to name but a few.
Now, you might think with all 20+ different editing tools it comes with, it'll be complicated to use but you'd be wrong!
KAPWING approaches this subject from an entirely different angle. Rather than bundle all of them into a single confusing editing interface, each tool is kept separate and can be worked on independently. 🙂
How to use it is pretty straightforward that a tutorial would just be a waste of your time. But essentially you choose the action template you want, add text, image, style, animation, music, etc. And finally, publish to get your video.
Its simplicity doesn't even end there, besides being an online tool making it easily accessible from anywhere. You can use KAPWING without having to create an account with them.
Another thing you'll love with KAPWING is the fact that, unlike the others that require a plan upgrade to remove their watermark. You only need to sign in with your favorite email address to remove KAPWING's watermark. 🙂
It's their freebie, sort off. But one thing you should know is that your creations will be public. But to make them private, all you'll need is to upgrade your plan.
Below is a video from KAPWING showing you how to add text to videos, GIFs, and images.https://www.youtube.com/embed/o8Xczj4PYeo
VISIT KAPWING
8. VIDNAMI Formerly CONTENT SAMURAI
Above all else, the simplicity of usage for any software is a must if the interest of its users is to be kept intact.
And one video editor that best does this is Vidnami.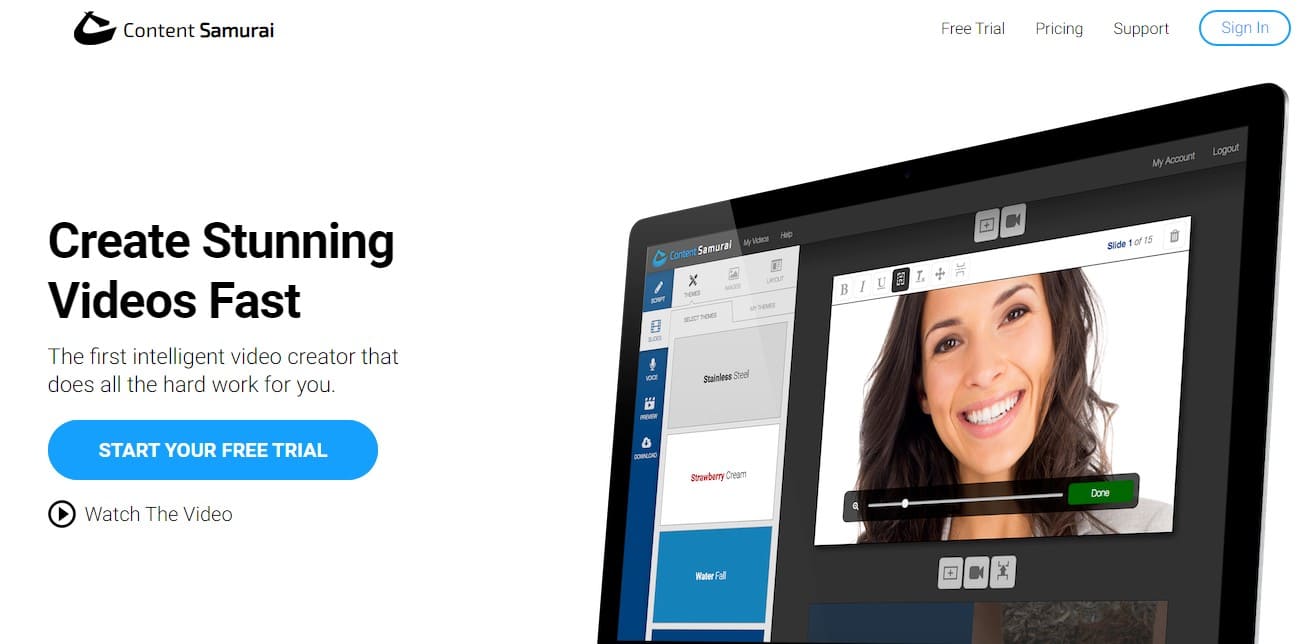 The only difference though, to those listed here, is that it's based on free trial rather than membership.
This means you can only use it for 14 days for free, then after upgrade or end your trial.
The good thing though is that you'll get your HD videos watermark-free during the trial period with no strings attached.
Other than that it does pretty much everything else all the above do, regarding converting text to powerful marketing videos fast online, only easier.
And in terms of its features, you get access to its built-in asset library jampacked with over 100 million stock images and footage for free use.
Intelligent frame recognition that helps you jump from script to video by cleverly formatting your script into slides for quick planning and editing.
Image and video autosuggestion for slides so you don't have to, or for minimal edits, if you do, saving on video creation time.
Natural sounding text to speech functionality so you don't have to hire anyone for voiceovers, while still giving your video a soul.
You'll even get a handy help center and a loving community to help you should the need arise. It's all about that care, baby! 🙂
Using Vidnami is also super simple.
Pick out a template you like and add in your script.
Edit the slides auto-generated to make sure they tell the story you want.
Add in your voiceover or use one of their natural-sounding English speakers to do it for you.
Preview your video creation and download it in full HD.
Below is a video from them that nicely ties together the steps above for clarity.https://www.youtube.com/embed/WUYa3OIB00c
And my own text to video example using Vidnami.https://www.youtube.com/embed/kMwGtpCdwvk
If you want a specialized text to video editor that gets regular updates, is super easy to use and less complicated to master, then Vidnami is your answer.
And with the 14-day free trial, you owe it to yourself to make the most out of those days. 🙂
VISIT VIDNAMI
Note: All free plans in all the video makers above come with certain limitations and with Watermarks, removable with the website's specific method. 🙂
In Conclusion.
Numbers don't lie, and 76% of businesses have seen an increase in sales from their video marketing efforts.
In short, video marketing is here to stay, and whether or not you take advantage of it, it's up to you and your business.
But in all honesty, who's certain their business wouldn't benefit from all the extra revenue video marketing could bring them?
That's it from me today with the top 7 ways to convert text to video online for free.
But if you know of any other free online video editor that deserves a spot on this list but isn't, do comment below about it.
And if you want to create 2D $ 3D animation, doodle sketch, explainer, and full-motion videos but don't know which software to use, here's the perfect solution.
Till next time, stay blessed!